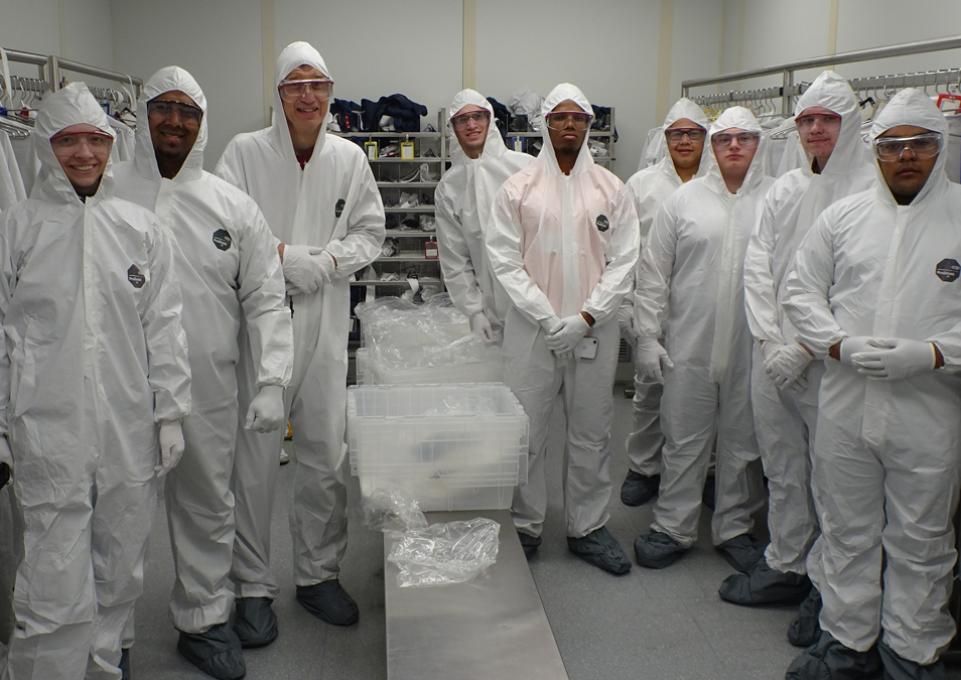 When he started at Buffalo State, Aristotele Concepcion, now a junior biology major, sought a community of fellow biology lovers. The Oswego, New York, native found exactly that and more with the campus's Biology Club, which elected him president last spring. The club meets weekly for academic and social activities.
"We frequently invite our professors, graduate students, and professionals working in the sciences to our meetings to talk about classwork and offer professional advice," Concepcion said. "That way our members can develop new interests and make professional connections."
The Biology Club is one of about 20 academic clubs currently active on campus. They range from department-related clubs that provide learning and social opportunities to organizations that hone students' professional skills, such as Casting Hall Productions, which allows students to get practical experience in all aspects of campus plays and musicals, and the Record, where students report campus news. The clubs and organizations are supported by United Students Government (USG) and are open to all Buffalo State students, regardless of major.
"We know that our students learn in many different ways, and the opportunities supported by dedicated faculty mentors in academic clubs are at the top of the list," said interim provost James Mayrose, who served as a mentor to students on the mini baja team in the past. "Whether the faculty member is inspiring discussion, fostering critical thinking, offering career advice, or cultivating an engaged community of scholars, when faculty support our students in these ways, they are setting a foundation for success."

While each club has a faculty adviser, students are encouraged to take the lead in creating the clubs' events. For instance, Reginald Osuji, a senior criminal justice major who is president of the Criminal Justice Club, planned this fall's programming with his executive board last summer. Along with weekly meetings, they visited a maximum-security prison and host monthly debates on timely topics such as the death penalty.
"Because you may be assigned a position in the debates that doesn't reflect your actual opinion, it forces you to challenge your beliefs," said Osuji, who wants to attend law school after graduating in May. "We want this club to not be another class but to help students get a better understanding of what's happening in the world."
Students also benefit from working with advisers who are experts in their fields or have valuable professional experience, such as criminal justice lecturer Martin Littlefield, who is a retired federal prosecutor, and Annemarie Franczyk, associate professor of journalism and Record adviser, who continues to write professionally. 
Meanwhile, students in the Physics Club get to work on projects and take trips with physics professor David Ettestad, a Cornell University graduate who has advised the club for 33 years.
During past club-sponsored trips, students spotted the late famed astronomer and astrophysicist Carl Sagan outside a Cornell laboratory and heard the late physicist Stephen Hawking speak at a national conference, Ettestad said.
Club members also develop camaraderie through regular lunchtime meetings and fun activities, such as the annual egg drop in the Science and Mathematics Complex.
"The students are networking and realize they aren't alone," Ettestad said. "This makes them more likely to stay after class and work together on projects."
Along with holding weekly meetings and viewing geology and astronomy-related movies and videos, students in the Astronomy-Geology Club attend the Northeastern Geological Society of America conference each March.
"Even if they aren't presenting themselves, they get to see what students, including graduate students, at other universities are doing," said Kevin Williams, associate professor of earth sciences and science education, who co-advises the club with associate professor Gary Solar. "The experience often ignites their interest in research," Williams said.
Megan Buseck, a senior exceptional and elementary education major who serves as president of the Student Council for Exceptional Children (SCEC), said participating in SCEC has boosted her confidence in her ability to teach.
The group hosts events with faculty members that focus on different aspects of exceptional education, such as autism spectrum disorder or hearing impairments.  
"We offer so many professional development opportunities that it's almost impossible to not learn something new and grow," Buseck said. "The three faculty advisers—Andrew Hashey, Kathy Doody, and Angela Patti—have all inspired me. Each professor is unique in teaching style and experience, and they have contributed to my successes thus far at Buffalo State."
In addition, Buffalo State chapters of honor societies, such as Phi Sigma Tau, the international honor society for philosophers, provide students with academic and social opportunities outside of class.
Students do not have to be philosophy majors to join; however, they do need to maintain a minimum 3.3 grade point average across at least two philosophy classes.
"If students are interested in philosophy and have demonstrated a talent for it, it's a good experience," said Jason Grinnell, chair and associate professor of philosophy, who serves as the Phi Sigma Tau adviser. "What students who aren't majors quickly realize is how relevant philosophy is to other disciplines."
As part of their $25 membership fee, society members receive an annual subscription to the undergraduate philosophy journal Dialogue, which includes publishing opportunities.
"My vision for the society isn't about narrow academic philosophy, but rather about finding connections with other disciplines and the life of the mind," Grinnell said. "I'm proud that we have a healthy philosophical community on campus beyond students who choose it as a major."
---

Pictured: Physics professor David Ettestad (third from left) and students at the Cornell Nanofabrication Lab, fall 2019.