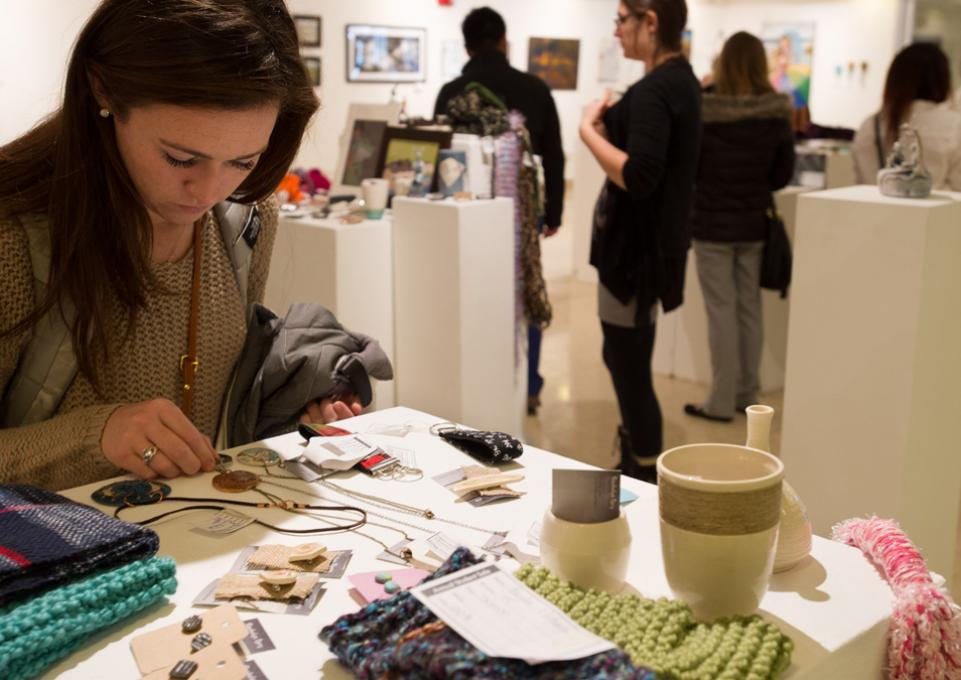 The Art and Design Department's annual Student Art Sale, a campus event that allows students to showcase their talents outside the classroom while gaining valuable skills and experience, will be held Wednesday, December 4, from 10:00 a.m. to 7:00 p.m. and Thursday, December 5, from 10:00 a.m. to 4:00 p.m. in Upton Hall's Czurles-Nelson Gallery.
This year marks the sale's 23rd anniversary, and students and faculty alike are excited to see the hundreds of handmade arts and crafts items that will be unveiled this year. Sale items include jewelry, scarves, ceramic pottery, sculpture, wooden items, prints, and photographs.
Carol Townsend, associate professor in the Art and Design Department and the original faculty mentor throughout the event's 23-year history, said this year's sale is expected to be as successful as those of years past.
"We have very nice participation from a wide range of visual arts students," she said. 
Townsend noted that last year's sale had over 1,000 student-made creations, and over 40 students participated in creating pieces for the sale. This year, visitors can expect a variety of new merchandise, including handcrafted wooden planters to liven up the ambiance of a home or office.
Occurring after Black Friday and before Christmas, the sale provides a great opportunity for anyone looking to find a special gift or a personal statement piece.
"People do a lot of buying for holiday time or to decorate their office or for themselves," Townsend said.
The benefits are not only to the buyers, however. The Annual Student Art Sale teaches students important lessons in business, including how to price and distribute their items, gauge consumer interest, manage inventory, and write receipts.
Associate professor of fibers Jozef Bajus is participating in organizing the sale for the first time this year, and he shared how students are preparing and learning more in their trades.
"In every classroom, they're working on products for the student sale," Bajus said. "It's new for some students who don't have experience on how to promote and sell their work, or how to advertise the venue."
Students can participate in other ways besides direct sales, like designing and printing sale fliers or other promotional materials.
Sabina Mogavero, an art education major who will participate as a seller for the second year, said she recalled the valuable advice of her ceramics professors about considering the amount of time and labor she put into her work when pricing merchandise.
"That was a really good experience to go through and see that my work has meaning and it matters," she said.
Mogavero will be selling clay jewelry this year, and she looks forward to seeing the overall response to her pieces.
"I'm excited; I hope that everything sells out," she said.
Patrons can purchase works to suit a variety of budgets with cash and, for the second year, credit cards as well. The sale will be open to the public and will include light refreshments.