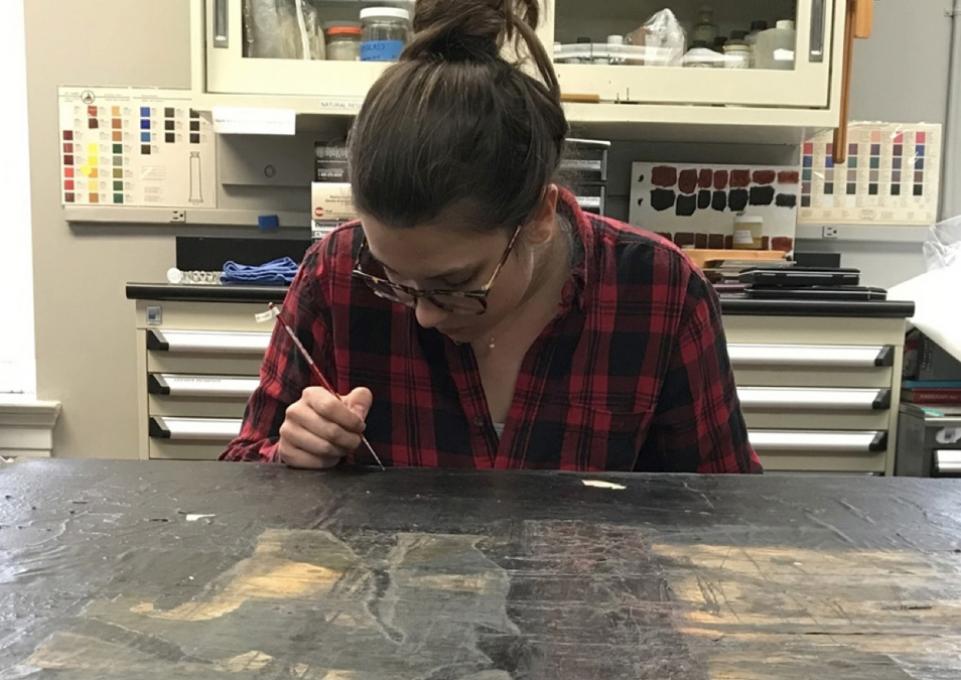 Every year, Buffalo State's Garman Art Conservation Department hosts its Fall Open House, offering members of the public a rare glimpse into what it takes to conserve damaged paintings, sculptures, documents, and other pieces of art. The popular free event includes tours of the Rockwell Hall studios and labs and first-person accounts from art conservation graduate students and faculty about their projects.
During this year's open house, held Friday, October 25, from 5:00 to 8:00 p.m., the public can hear about a painting close to home. Wall Painting #LJM5, a mixed-media work that artist Joseph Piccillo, professor emeritus of art education, created in the mid-1960s, will be on display, showing its completed conservation treatment.
The painting came to the department more than a year ago from the art collection at Nichols School in Buffalo and was Anna Ersenkal's conservation treatment master's project. Ersenkal (pictured top) is now completing her third-year internship in paintings conservation at the Philadelphia Museum of Art.
"The painting was in bad shape," said Patrick Ravines, associate professor and director of art conservation. "It needed to be conserved in order to be displayed. Anna did a wonderful job bringing the painting back to life."
First- and second-year graduate students in the program, along with art conservation faculty members, also will discuss their projects. Several students are conserving historically important artifacts from African American and indigenous peoples, Ravines said. They include a diorama from Tuskegee University and a canoe from the Seneca Iroquois National Museum in Salamanca.
"I like for people to see what we do," Ravines said. "It's amazing what happens to a piece of art that has been stabilized and conserved. If you think of an object having a soul, it's like we've restored that intangible aspect of it and are breathing life back into it."
The open house takes place on the second and third floors of Rockwell Hall. Light refreshments will be served. For more information, please call the department at (716) 878-5025 or visit the department website.
 
---

About Joseph Piccillo
An award-winning painter and graphic artist, Joseph Piccillo, '61, '64, is best known for his black-and-white images of horses in motion. He received his bachelor's and master's degrees in art education from Buffalo State, and was a longtime professor of art education at the college, notably having Robert Longo, '76, as a student; he retired in June 2017. His artwork is included in nearly 20 public collections, including the Art Institute of Chicago, the Brooklyn Museum, the Metropolitan Museum of Art, the Museum of Modern Art, and the Albright-Knox Art Gallery, as well as 29 corporate collections, such as IBM, Guess, and Microsoft.