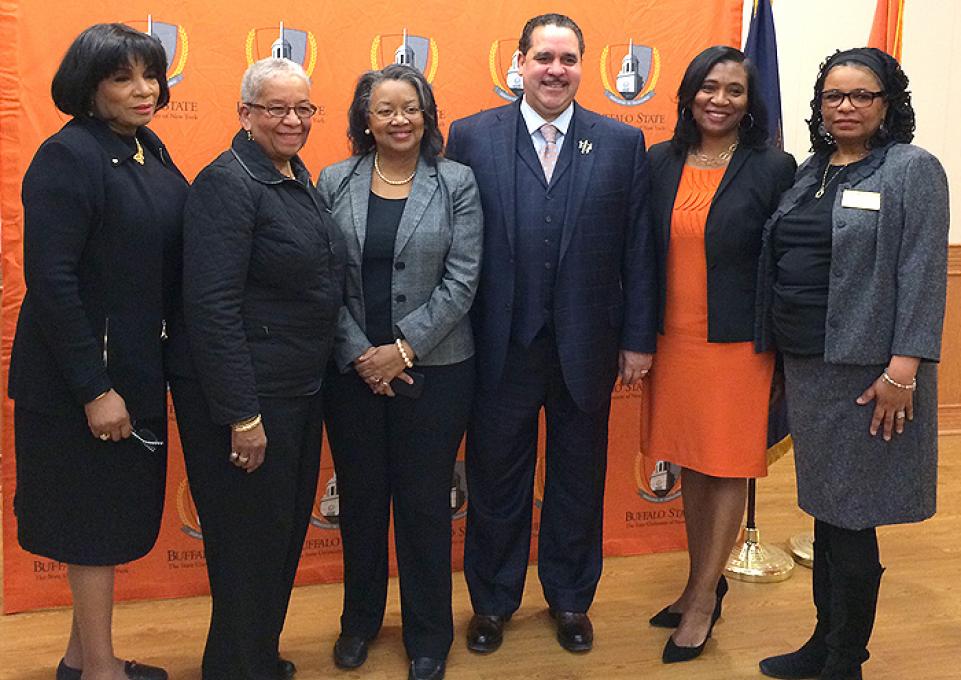 On Monday, April 3, SUNY Buffalo State President Katherine Conway-Turner and Buffalo Public Schools Superintendent Kriner Cash announced plans for the new Urban Teacher Academy at McKinley High School.
The Urban Teacher Academy will accept its first cohort of students in fall 2017 at McKinley. Faculty members from Buffalo State and staff from the Buffalo Public Schools will develop the curricula for four college-level courses that will be taught as part of the academy. Academy students also will take part in activities at Buffalo State to help them prepare for college.
Students who successfully complete the four-year Urban Teacher Academy at McKinley will be accepted into Buffalo State's teacher education programs with 12 credit hours already completed toward a bachelor's degree.

"We look forward to collaborating with Buffalo Public Schools and McKinley High School on the Urban Teacher Academy," said Conway-Turner. "Encouraging our local high school students to pursue the profession of teaching has the potential to benefit not just the Buffalo Public Schools but any school district with a diverse student body."
"The need to build capacity and diversity into our teaching corps is immediate," said Cash. "I am delighted that we now have a way to infuse cultural relevance in teaching by 'growing our own' teachers from our talented and diverse student population. Our students will begin their college classes while still in high school, the district will have a widely diverse talent pool of teachers, and future BPS students will benefit from having teachers who mirror their background and culture. In addition, I know that students in the Urban Teacher Academy will add rich cultural context to Buffalo State's teacher education classrooms."
SUNY Chancellor Nancy L. Zimpher said, "This is a solution to two major issues impacting New York State—the teacher shortage in many of our urban schools, and college readiness of the students within those schools. We still see too many students go to college unprepared, if they attend at all. The partnership announced today will prepare our students for college and inspire them toward a teaching career so that they then inspire more future teachers. This complements our TeachNY efforts to lift the teaching profession, and I look forward to seeing the results."
School districts across the country are struggling to recruit culturally, linguistically, and ethnically diverse teachers. To develop a more diverse pool of teachers, the Buffalo Public Schools has developed a comprehensive Career and Technical Education "grow your own" program, designed as an opportunity for students who imagine themselves as great teachers. Urban Teacher Academy graduates who earn a bachelor's degree in education from Buffalo State will be encouraged to apply for positions within the district.
Kathy Wood, associate dean of the School of Education at Buffalo State and project coordinator for the Urban Teacher Academy, added, "We are pleased and grateful that McKinley High School has agreed to host the program. The academy provides a sustainable, purpose-driven program to provide students with teachers that better reflect the diversity of the BPS student body."   
Theresa Harris-Tigg, a member of the Buffalo Public Schools Board of Education, vice president of student achievement for the board, and an assistant professor of English Education at Buffalo State, said, "As a college professor in English Education, former ELA classroom teacher, and current Board of Education member, Superintendent Cash and I have had many discussions regarding teacher preparation and diversity in teacher hiring. Dr. Wood and I have had similar conversations and opportunities to work together in future teacher clubs sponsored by Buffalo State. Thus, when Dr. Wood contacted me in early fall 2016 to see if we could get this initiative moving, it was easy to talk with Dr. Cash about it. The green light was given to bring both entities together for further exploration regarding an Urban Teacher Academy. Dr. Cash assigned Dr. Will Keresztes as the district point person and many collaborative meetings between Buffalo State and Buffalo Public Schools staff persons ensued. I am excited to see this work come to fruition and McKinley High School, under the leadership of Crystal Barton, is a great place to begin this academy. Dr. Conway-Turner and Dr. Cash will enhance teacher preparation and assistance in providing a more diverse candidate pool of teaching professionals in our region."

Barton, principal of McKinley High School, said, "A program of study such as this is a jewel in Buffalo Public School's crowning opportunities of new and innovative programs of learning. How many times have we heard young children say, 'I want to be a teacher when I grow up?' By establishing the Urban Teacher Academy, in collaboration with Buffalo State, Buffalo Public Schools is creating another pathway of learning, which will allow our students to realize their childhood hopes and dreams of growing up and becoming teachers—in our school community no less." 
Pictured from left: McKinley High School Principal Crystal Barton; Buffalo School Board President Barbara Seals Nevergold; SUNY Buffalo State President Katherine Conway-Turner; Buffalo Public Schools Superintendent Kriner Cash; Buffalo State Associate Dean of the School of Education Kathy Wood; and Buffalo Public Schools Board of Education Member and Assistant Professor of English Education at Buffalo State Theresa Harris-Tigg.