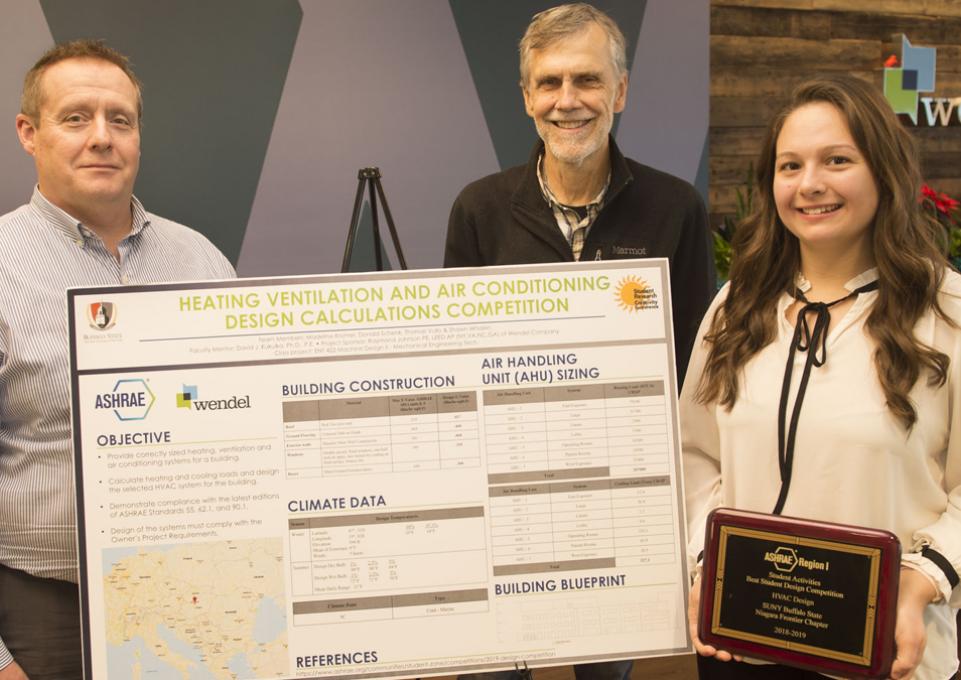 A team of four Buffalo State students from the Engineering Technology Department recently took second place in a prestigious international competition of energy, heating, and cooling designs.
The team placed second in the 2019 American Society of Heating, Refrigerating, and Air-Conditioning Engineers (ASHRAE) University Competition for their design calculations of an efficient heating, ventilation, and air conditioning (HVAC) system for a mock-up hospital in Budapest, Hungary. Ain Shams University in Egypt took first place, while the British Columbia Institute of Technology in Canada came in third. The Buffalo State team members, seniors at the time who all graduated in spring 2019, were Madeline Kromer, Don Schenk, Thomas Vullo, and Shawn Whalen.
David J. Kukulka, professor of engineering technology and coordinator of the mechanical engineering technology program, served as the faculty adviser for the team, while Raymond F. Johnson, '85, senior associate principal with Wendel Companies, served as the team's industrial mentor. Wendel was the industry sponsor of the project. The students will be recognized at the 2020 ASHRAE Winter Conference in Orlando, Florida, in February, where they will also give a presentation on the project.
"It brings the value of the program and the quality of our students to the forefront," Kukulka said. "It's outstanding for the program."
It's the second time in the last five years that a Buffalo State team has placed in this international competition, Kukulka said.
Kromer, a former student-athlete who played women's hockey while at Buffalo State, said the project was stressful at times but ended up being a great way to gain experience and demonstrate what she learned in her time in college. She landed a mechanical engineering job at Wendel over the summer.
"For us to come in second was very shocking," she said, "but looking back at it, we did really well."
The team worked on a project to calculate the load that an HVAC system would need to operate in a hospital in Hungary. That involved determining the amount of heat each area would need, the amount of cooling the rooms would need, and how much ventilation would be needed for the system to work properly. That's complicated in a hospital, Johnson said, because there are so many different areas where different things are happening.
"In a hospital, you might have a patient room, which might have one type of classification, or an operating room, which would be an entirely different classification," he said. "You have to make this whole system work together to cool and heat this whole building, and ventilate it, as well."
For her part, Kromer did a lot of the writing on the project but also helped with the calculations, which are done through a computer program.
"Everyone collectively worked together," she said. "We didn't have anybody working separately."
Seniors in the Engineering Technology Department are assigned a project in their final semester, Kukulka said. For the team, the project served as both their senior project and their entry in the competition. The group met with Johnson weekly and provided weekly reports to their classmates. It was a lot of work, Kromer said, but it was worth it. 
"For a while, my life was school, hockey, and this project," she said. 
Participating in the project and the competition helped her decide which direction to take after graduating, Kromer said.
"It definitely gave me exposure to what was out there," she said. "I didn't really know what I wanted to do with this degree until I was in this project, and I came away with a huge interest in it."
In the end, the project gave Kromer a real-world look at what the field entails.
"This project basically led to my position at Wendel," she said. "I came away with the basic knowledge on how to size a system."
Kukulka said it's interesting to put a group of students together on a project like this and watch them gel into a team.
"It's a really nice thing to see," he said.
 
---

Pictured from left: Raymond Johnson, '85, the team's industrial mentor; David Kukulka, professor of mechanical engineering; and Madeline Kromer, team member.