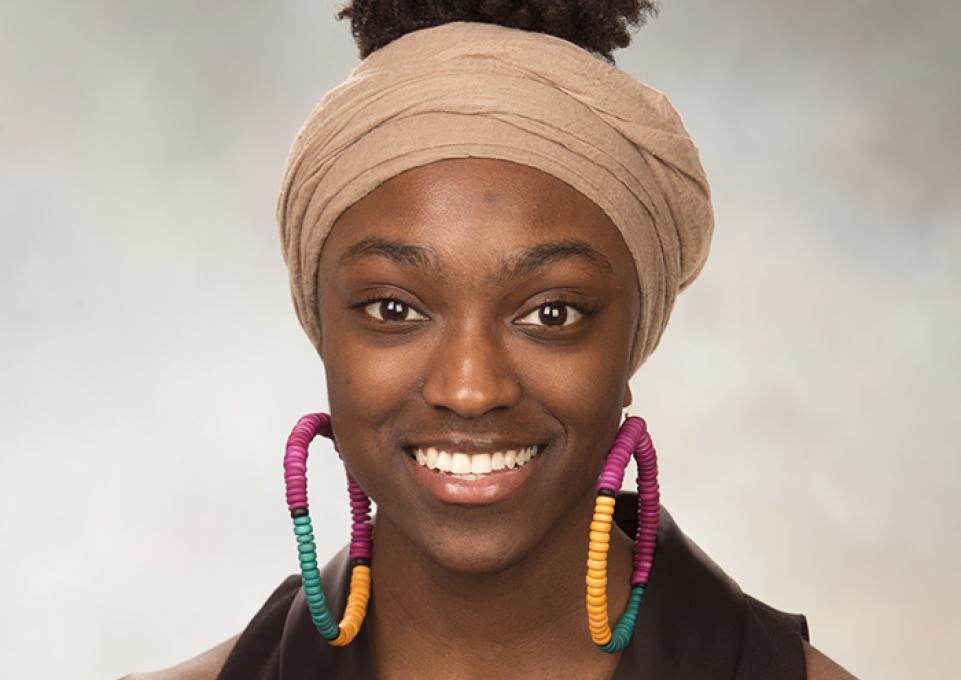 SUNY Chancellor's Award For Student Excellence
Zhanna Reed has earned a bachelor of arts in arts and letters with concentrations in dance, music, and theater, attaining a 3.65 GPA while participating in the Educational Opportunity Program (EOP).
She will receive the SUNY Chancellor's Award for Student Excellence during the 1:00 p.m. baccalaureate ceremony at Buffalo State's 147th Commencement, Saturday, May 18, in the Sports Arena. 
Reed is an accomplished student who has tackled a rigorous academic workload while successfully managing an ambitious performance and rehearsal schedule. She is a college student with the artistic spirit of a seasoned veteran. In addition, she is a mentor for fellow arts majors, encouraging them to find their niche and prepare for career success. She brings tremendous warmth and positivity, brightening the day of all those she engages with.
Reed's written work and contributions to class discussions are educated, thought provoking, and articulate. Her studio work is always concerned with improving technique. An EOP academic excellence award winner, Reed earned the Outstanding Undergraduate Service-Learning Course Participant award for her work in the Kinesthetic Learning Methods and Practices course. She also performed in Barbados at an academic conference on dance and inclusivity.
On stage, she starred in the leading role of Celie in Casting Hall Productions' The Color Purple, modeled in the college's Runway 9.0 fashion show, and performed at the Buffalo State Scholarship Gala in 2017 and 2018. A member of multiple Buffalo State musical ensembles, she is past president of the Buffalo State Dance Association and a member of Alpha Lambda Delta, the national honor society for first-year students; the National Honors Society for Dance Arts; and the National Society of Leadership and Success.
On campus, Reed has volunteered at the Buffalo State Child Care Center and with the Anne Frank Project. Outside of campus, she has volunteered at Roswell Park Cancer Institute, the Salvation Army, regional care facilities for elderly and homeless community members, and Hallie's Haven, a nonprofit organization that focuses on bringing safety and stability to neglected and abused children.