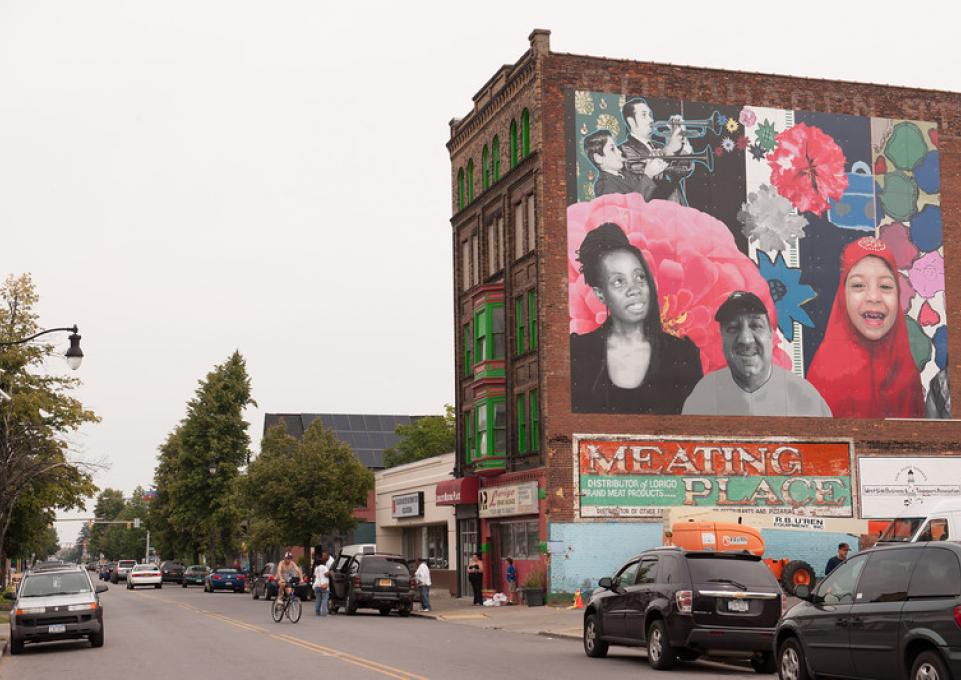 Congressman Brian Higgins, '85, U.S. representative for New York's 26th congressional district, announced the award of two Department of Health and Human Services (HHS) grants to Buffalo State College this fall to prevent drug and alcohol use among youth on Buffalo's West Side.
The first is a $1.5 million, five-year grant to fund a new project, West Side Thrives. Overseen by the college's Institute for Community Health Promotion (ICHP) and its Center for Health and Social Research (CHSR), West Side Thrives will engage community members in strategies to prevent or stop youth ages 9 to 20 from drinking alcohol, using marijuana, and abusing opioids. The grant began in October and provides $300,000 a year until 2024.
The second is a $125,000 ongoing grant to continue funding the West Side Youth Development Coalition (WSYDC,) started in 2009 in response to high levels of gang activity and violence occurring on Buffalo's West Side. This grant specifically focuses on preventing substance abuse in youth.
"Prevention and early intervention are key to guiding youth on a path to a successful future," Higgins said. "The growth of the West Side is exciting, and these projects encourage young residents to make healthy choices so they can be part of the positive changes happening in West Side neighborhoods. Buffalo State College is leading the way for young people both through the education of students on campus and with their commitment to the Buffalo community through projects like these." 
Overall, the West Side Thrives grant will use the following strategies:
Create multilingual and multicultural prevention materials, advertised messages, etc., that the community helps to craft.
Strengthen positive social activities in schools, in clubs, and in the community, such as soccer, sports tournaments, family nights, and ethnic cooking events.
Recruit and integrate more refugee, immigrant, lesbian, gay, bisexual, transgender, and queer (LGBTQ) community leaders into WSYDC.
Increase collaboration aimed at reducing substance abuse within the community.
 
WSYDC works in concert with ICHP/CHSR to provide a backbone structure that promotes positive social activities and strategies aimed at preventing and reducing substance abuse and addiction. West Side Thrives is specifically targeting high-need and at-risk groups like refugees, immigrants, and LGBTQ youth who experience trauma, according to Karl Wende, the project's director and a CHSR population health scientist.
"Prevention efforts will also focus on the onset and progression of substance use in high school LGBTQ students to reduce substance abuse–related and associated problems, such as bullying, physical or verbal abuse, and sexual assault," said Kelly Marczynski, ICHP director, adding that this will be accomplished by establishing gay-straight alliance clubs and leveraging in-school support, as well as attracting and training more LGBTQ community leaders.
"The West Side of Buffalo is extremely diverse," said Buffalo State President Katherine Conway-Turner. "Because more than 60 languages are spoken on the West Side, prevention efforts need to be culturally inclusive. And we know refugee families have often experienced severe trauma, which makes refugee youth more at risk for substance abuse. By providing interpretation services, translating materials, and bringing more refugee and immigrant leaders into the fold, this initiative will make it possible for them to engage in and benefit from prevention strategies that affect their entire community."
Wende compares drinking and drug use in youth to cigarette smoking prevention activities 35 years ago. "From a public health standpoint, it was very hard to help people to stop smoking," Wende said. "It wasn't until studies on the dangers of secondhard smoke were publicized that it became easier to put smoking bans in place. In a similar way, we're looking at how we can create environments that make healthier behaviors the easiest choice." 
This newer grant expands coalition efforts already in place to engage difficult-to-reach sectors of the community, including youth, Wende said. "We are continuing to make great strides in implementing and refining our strategies," he said. "We consistently collaborate with others to tackle underage substance use and addiction across the Buffalo State campus and the broader West Side community."
 
---

Pictured: "Celebrating the Refugee and Immigrant Experience," a public mural on the south side of Lorigo's Meating Place, 185 Grant Street, by artist Augustina Droze.

Photo by Bruce Fox, campus photographer.