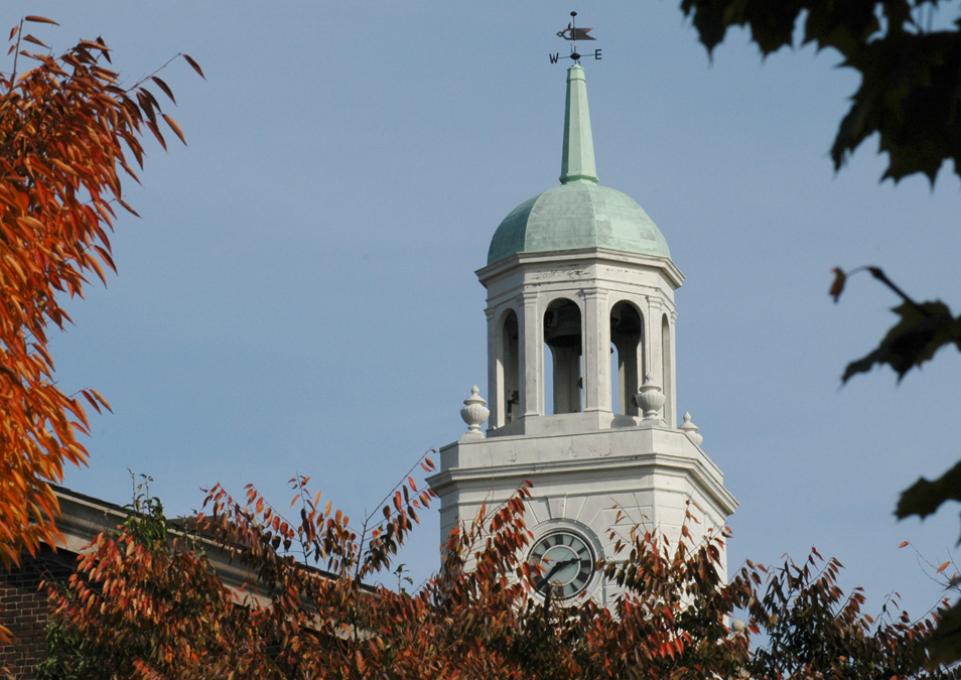 A recognition ceremony to honor faculty and staff accomplishments will be held on Thursday, November 7, at 12:15 p.m. in the Performing Arts Center at Rockwell Hall.
The event will recognize Buffalo State recipients of SUNY Chancellor's and President's awards. In addition, all new faculty and staff members will be welcomed to campus. The entire campus community is invited to participate in this seventh annual event. A reception will follow in the auditorium lobby of Rockwell Hall.
 
---

SUNY DISTINGUISHED RANKS


SUNY Distinguished Professor
Lawrence J. Maheady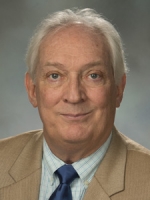 Lawrence Maheady, professor and Horace Mann Endowed Chair of Exceptional Education, is a distinguished, remarkable, and internationally known teacher-scholar. He elevates the status of his department, Buffalo State College, and the State University of New York through his scholarship and teaching. Students, faculty, practitioners, and teachers across the nation benefit from his research. He is a committed educator who focuses on the training of pre-service teachers so that they can use effective, evidence-based instructional practices. 
His research is related to evidence-based practice, improving education and student learning, educational reform, teacher preparation, designing practice, and teaching strategies. To date, Maheady has authored or coauthored over 90 articles in peer-reviewed journals, 12 book chapters, and three books; presented his work at over 200 international, national, and state-level conferences; and conducted more than 300 staff development sessions in 29 states.
Journals include the Journal of Evidence-Based Practices for Schools, Intervention in School and Clinic, the Journal of Behavioral Education, and Teacher Education and Special Education. Book publishers include John Wiley & Sons, Sage, McGraw-Hill, and Prentice Hall. His newest book, High Leverage Practices for Inclusive Classrooms, in press, will be published by Routledge and the Council for Exceptional Children.
Maheady's work is of significant merit both nationally and internationally. He contributes to the Wing Institute, founded in 2004 and named after Ernie Wing, an outstanding educator and child advocate who was an early champion of evidence-based education and quality services for children with special needs. Maheady is also a consultant for the Collaboration for Effective Educator Development, Accountability and Reform (CEEDAR Center). The goal of the center is to help states and institutions of higher education reform their teacher and leader preparation programs, revise licensure standards to align with reforms, refine personnel evaluation systems, and realign policy structures and professional learning systems. His vita is replete with examples that speak to the number and breadth of editorial boards, advisory boards, committees, and task forces on which he serves for the greater good.
Nominator: Katherine S. Conway-Turner, President
 
---
---

SUNY CHANCELLOR'S AWARDS


SUNY Chancellor's Award for Excellence in Classified Service
Cheryl A. Schoenhardt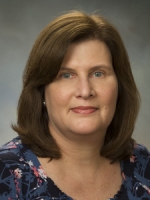 Cheryl Schoenhardt, library clerk 2 in E. H. Butler Library, is the primary person responsible for the availability of scholarly periodicals and databases in the library, handling their acquisition, processing, storage, and preservation. In addition to consistently performing her assigned duties at an exceptional level, she looks for other ways to contribute to the success of the Buffalo State community and willingly takes on additional responsibilities. She completes all her work with diligence, patience, and a positive attitude.
She is an approachable, cheerful, and helpful colleague and an exemplary problem solver. She is highly organized, creative, and a quick study who successfully keeps pace with the ongoing evolution of technology. New software appears regularly in the library, and Schoenhardt is quick to learn and test new applications. She eagerly uses technology to improve workflow processes. For example, she independently  pursued advanced Microsoft Excel training in order to better understand campus and state financial practices. In addition, she has the uncanny ability to see how technology in one area can be successfully introduced in another.
Schoenhardt communicates effectively with all her colleagues, from the library director to student workers. She is approachable, helpful, and extremely patient when training others and partnering on new projects. She has collaborated with colleagues to create displays to promote library resources that are frequently overlooked, particularly by students, such as "New Books" and "Resources for New College Students." She updates materials in these areas regularly and, as a result, the number of new books that have been checked out  since the New Books display launched has increased dramatically.
Buffalo State students and faculty members rely heavily on library resources for their research. Schoenhardt is always focused on meeting the needs of library users. During busy times or when complex problems arise, she arrives early to work and stays late unasked, because she is  cognizant that students and faculty members are usually working on deadlines. She is a key factor in providing scholarly resources for the success of students and faculty.
Nominator: Marianne Foley, Former Head of Acquisitions Services and Systems, E. H. Butler Library
---

SUNY Chancellor's Award for Excellence in Faculty Service
Pixita M. del Prado Hill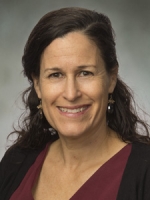 Pixita del Prado Hill, professor of elementary education, literacy, and educational leadership, has demonstrated a passionate and continuous commitment to invest her considerable talents in teaching, scholarship, and service in the advancement of clinically rich practice through the cultivation and enrichment of school-university partnerships. Her insight, vision, hard work, and peerless ability to plan, implement, and measure the impact of this important work has propelled the Professional Development Schools Consortium (PDS) model begun at Buffalo State in the 1990s to national and global prominence.
Del Prado Hill assumed the leadership of the Buffalo State PDS in 2012, and quickly became the creative force behind the expansion and development of the partnership consortium into a global phenomenon unlike any other in New York state. Teacher candidates at Buffalo State College are prepared for their profession in a richly contextual, pedagogically diverse, dynamic environment in schools across the Western New York region and now, because of del Prado Hill's visionary leadership, on five continents. Today, the Buffalo State PDS Consortium includes more than 45 New York schools that have formal signed agreements to work with our candidates and with our faculty to address the issues of teaching and schooling in a contemporary, vibrant, interactive collaborative led and inspired by del Prado Hill.
Each year, the PDS follows a thematic strand of value and importance to the advancement of social justice in schools and communities, an innovation brought to the PDS by del Prado Hill. Last year's focus on "Engaged Partnership" led to formal study, school-based action research, and improved student engagement strategies in classrooms across the PDS. This year, she organized and inspired the faculty to develop the "Resilience Project," a deliberative scholarly and service-oriented effort to focus on trauma-informed practice and building resilience. Perhaps the most concrete evidence of this massive undertaking is exemplified in the newly published book, Doing PDS: Stories and Strategies from Successful Clinically Rich Practice (2018, Information Age Publishing), of which del Prado Hill was a co-editor. A second book focusing on measuring the impact of successful school-university partnerships is forthcoming.
Del Prado Hill's teaching evaluations are some of the best in the School of Education. She includes service learning in all three of her major courses and in 2016 was recognized for her outstanding commitment to service learning with the Buffalo State Volunteer and Service Learning Reciprocal Partnership Award. She developed Club Hola, an extracurricular opportunity for IPDS returning candidates who wish to continue to practice and use their Spanish language skills.
Nominator: Wendy A. Paterson, Dean, School of Education
---

SUNY Chancellor's Award for Excellence in Professional Service
Abdollah Hajikandi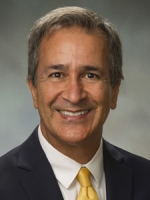 Abdollah "Abdi" Hajikandi, assistant director of academic services in the Educational Opportunity Program (EOP), has demonstrated consistent excellence in serving the mission of the college since his arrival on campus in 1990. His capabilities and accomplishments in the areas of leadership, decision-making, and problem-solving have contributed enormously to the campus. Both within and beyond his job description, Hajikandi is a wonderful colleague who goes the extra mile to show concern for students, faculty, and staff.
In his role in EOP, Hajikandi provides the primary support for tutoring and freshman peer mentoring, as well as Academic Enrichment and Grade Improvement Services (AEGIS) mentoring for students on academic probation. He develops new initiatives and implements programs for improved service delivery, including assessment tools for academic services. He also coordinates the math and writing components of the EOP summer programs and implements supplemental instruction for student success. He does an outstanding job, from planning to execution.
Hajikandi is also beloved for his longtime work as an instructor of mathematics. He has taught basic mathematics, elementary and intermediate algebra, probability and statistics, pre-calculus, and contemporary mathematics, as well as HON 102 (Applied Mathematics). His student evaluations are consistently positive. His students remark that his classes are challenging but also engaging, and that his instruction is patient, caring, and understandable. He brings out the best in every student with his positive energy.
He is highly ethical and innovative, and his warm, approachable style is a real asset to all the campus committees and advisory boards on which he serves. He was recently appointed a member of the Strategic Enrollment Steering Committee by the president to help do the vital work of devising a five-year strategic plan for student recruitment. The sheer number of invitations that he receives to participate on committees is evidence that he is flexible and easy to work with, and goes above and beyond his assigned responsibilities.
Nominator: Amitra A. Wall, Associate Provost
---

SUNY Chancellor's Award for Excellence in Professional Service
Rita M. Zientek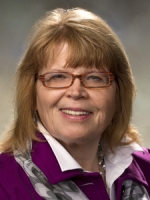 Rita Zientek, associate dean of the School of the Professions, performs her assigned duties superbly and makes enormous efforts in service beyond those responsibilities. She demonstrates flexibility and a willingness to adjust to institutional needs, is creative in addressing work tasks, has remarkable problem-solving and decision-making skills, and is an innovative leader on campus. On multiple occasions, she has stepped up to serve as interim dean of the School of the Professions, enabling the school to continue to meet its objectives and pursue its mission without loss of continuity or vision.
Colleagues describe Zientek as a visionary, proactive, and intelligent leader with an admirable, collaborative style. She has the ability to bring together individuals and groups of people on campus to solve issues and to provide more effective services to students. She works under broad administrative direction with significant responsibility in planning, organizing, and managing services associated with academic advising, outreach and admissions, orientation, academic support, student discipline, and student behavioral intervention.
Zientek represents the School of the Professions across campus on numerous committees and task forces. She has not only served on these committees but also chaired many of them. Most notably, she served as chair of the Faculty and Staff Research and Creativity Fall Forum for nearly a decade, as executive producer of the Year of the Innovator, as a member and president of the Campus House Club board of directors, and most recently as the cofounder and executive board member of the Friends of the Maud Gordon Holmes Arboretum.
Zientek continually strives for excellence in her professional life, often pursuing professional development opportunities in order to strengthen her leadership expertise. She recently took part in the National Academic Advising Association's Summer Institute in Norfolk, Virginia; attended Crucial Conversations Training in Washington, D.C.; and participated in the Higher Education Resource Services program at the Wellesley Institute for Women in Higher Education Administration.
Nominator: James Mayrose, Interim Provost
---
---

BUFFALO STATE PRESIDENT'S AWARDS


President's Award for Excellence in the Advancement of Equity and Campus Diversity
Lisa T. Morrison-Fronckowiak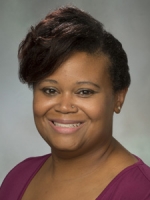 Lisa Morrison-Fronckowiak, director of student accessibility services, works to ensure that individuals with disabilities are equals among their able peers while providing the equitable supports needed for that vision to become a reality. Her work contributes to the retention of a diverse array of students through her office's support services, advocacy, and programming.
Her dedication and tireless efforts to empower students is well documented and inspirational. She has worked closely with the Educational Opportunity Program (EOP) to assist students in that program and has served as a mentor for the NIA Mentor and COMPASS programs. She also has served as a member and is currently co-chair of the President's Council on Equity and Campus Diversity, for which she drafted the final revisions of the Campus Diversity Strategic Plan. In addition, she secured a $54,000 grant to support Access BSC, a summer transition program for high school students with learning disabilities.
A noted expert in her field, Morrison-Fronckowiak co-authored Effective College Planning for Students with Disabilities, 11th edition, a publication used to assist students with disabilities and their parents in college transition planning. As a founding member of the TEDx Youth Buffalo planning board, she has hosted four successful TEDx Youth Buffalo conferences on the Buffalo State campus.
Morrison-Fronckowiak has led a multitude of other initiatives and activities in the wider community, serving as co-chair of the Western New York Collegiate Consortium and Disability Advocates (WNYCCDA) and a volunteer with the Girl Scouts of Western New York. In every action of her professional and private life, she works to advance the virtues of equity and diversity.
Nominator: Holly V. Quicksey, Director, Middle Early College High School Program, Educational Pipeline Initiatives
---

President's Award for Excellence as a Graduate Research Mentor
Aaron N. Shugar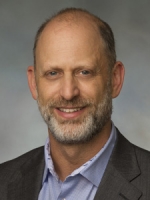 Aaron Shugar, Andrew Mellon Professor of Art Conservation, has mentored every student in the Garman Art Conservation Department since his arrival at the college in 2006—an astounding total of more than 130 students. He actively encourages all students to explore their scientific curiosities and guides them at every step. He is also a valued colleague who is well respected by his peers at the college and in the professional community.
For his lecture and laboratory course pairing in conservation science, Shugar requires all students to conduct individual research projects. This is a time-consuming and demanding task. Since the majority of the students are not scientists and can be uncomfortable with graduate-level science courses, Shugar helps them understand advanced concepts, and he tailors projects to each student's strengths and interests. He teaches and mentors students on how to develop a hypothesis, design experiments, collect and analyze data, and write up results.
He is also intimately involved in the master's project that each graduate must complete. He mentors them on the analysis and diagnostics of the inorganic aspects of the conservation project, and guides them in data analysis and the written report. Many of these projects are so creative and of such superior quality that students take them, at Shugar's encouragement, to national and international conferences as oral presentations or posters. In addition, Shugar mentors graduate students in summer and third-year internships and in research projects for other departments on campus.
The mentoring that Shugar provides does not end when students graduate and start their conservation careers. He often connects graduates with other professionals in the field, creating an instant international support network. Alumni have also been known to invite him to travel to their institutions to help with data collection and interpretation, and to travel back to Buffalo State themselves to ask for his advice and help with scientific analyses. He is always willing to help his students achieve their goals.
Nominator: Meredeth A. Lavelle, Program Manager, Garman Art Conservation Department
---

President's Award for Excellence in Service to the College
Connie F. Cooke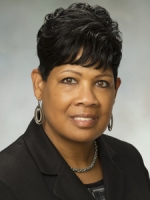 Connie Cooke, director of financial aid, started her career at Buffalo State in 1993 as a senior financial aid adviser and was promoted to director of financial aid in 2011. Throughout her time on campus, she has displayed a tireless commitment and dedication to students and the college community. Her primary focus is on student persistence, retention, and graduation.
She is an expert at counseling both current and new students and their families through many tough financial decisions. She serves as the primary resource on campus for financial aid information and policies and is always willing to act as a conduit to other offices and departments so that students receive timely and correct services to support their educational goals.
Cooke diligently strives to ensure that the college complies with all regulatory requirements so that it retains eligibility to participate in federal aid programs. In addition, she is always advocating additional funding streams for students. She played a major role in establishing the new Back on Track Fund that assists academically eligible students who need one-time extra financial support in order to register for the upcoming semester.
Cooke represents the Financial Aid Office at open house and other enrollment events and works with the Admissions Office staff on financial literacy support throughout the recruitment process. Cooke sets a high standard of excellence and, under her leadership, Buffalo State financial aid services have earned the highest ranking in student satisfaction among State University of New York (SUNY) university colleges in the SUNY Student Opinion Survey.
Nominator: Jacquelyn L. Malcolm, CIO and Vice President, Enrollment, Marketing, and Communications
---

President's Award for Excellence in Service to the College
Meredeth A. Lavelle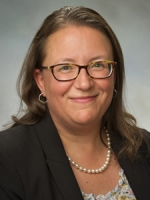 Meredeth Lavelle, program manager of art conservation, has advanced the mission of her department and the college through extraordinary efforts over the past 17 years. Her service covers a wide range of activities such as communicating with graduate students, preparing and managing grants, and serving on collegewide committees. She keeps the department running smoothly and shows the utmost care for the program, its students, and their success.
Lavelle manages the department budget and is instrumental in efforts to raise money to fund departmental programs and initiatives as well as to pay stipends to help students cover living expenses. With her strong writing skills, head for numbers, and organizational abilities, she has contributed to more than 20 successful grant applications since 2010, totaling more than $13 million. She is responsible for managing this money, tracking the grant deadlines and reporting requirements, and monitoring department spending, endowment accounts, investments, and yearly allocations. She shows superb performance in fulfilling these weighty duties.
She keeps graduate students informed on departmental and college policies and provides the critical service of preparing paperwork for fellowships and scholarships. She oversees the planning and organizing of all departmental events, including the annual Open House, Clinic Day, and guest lectures. She also produces the department's biannual newsletter and coordinates its website and social media presence.
Lavelle is willing to help the department in many ways outside of her job description and is frequently available beyond normal working hours. She casually takes on extra tasks such as shopping for the department retreat and providing thank-you cards so that graduate students can acknowledge donors. She graciously finds creative solutions to any challenge, from adjusting travel arrangements when a flight gets canceled to ordering last-minute supplies when a guest lecturer's package is lost in delivery. Her enthusiasm, intelligence, commitment, and collegiality benefit the college daily.
Nominator: Theresa J. Smith, Assistant Professor, Garman Art Conservation Department
---

President's Award for Excellence in Service to the College
Bhakti Sharma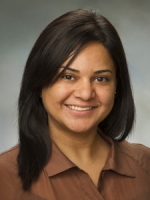 Bhakti Sharma, associate professor of art and design, has demonstrated superb performance and a willingness to serve in many roles since her arrival on campus in 2009. She has served the college as department chair, accreditation coordinator, College Senate curriculum chair, and Buffalo State College Foundation board member.
As chair of the Interior Design Department, she tirelessly led an effort to update and develop new curricula, improve facilities, and receive national reaccreditation approvals from the Council for Interior Design Accreditation (CIDA). The department flourished under her leadership. As a faculty member in the newly formed Art and Design Department, she is working through the complexity of CIDA reaccreditation, researching statistics, preparing a three-year exhibition of student artifacts, and writing the major self-study report. She has also helped to write the massive five-department reaccreditation document for the National Association of Schools of Art and Design. These tasks reflect problem-solving skills, initiative, and the ability to complete work in an accurate and timely manner.
As chair of the College Senate Curriculum Committee, she has streamlined reporting and processes leading to more effective change. Because of her experience in curriculum work, she was named an honors curriculum fellow and is helping improve Honors Program courses at the college. Sharma's interpersonal skills are crucial to her multilayered service on the Buffalo State College Foundation. As a board member, she contributes to the Development, Scholarship Gala, and Planned Giving committees. She has mentored students in making dynamic presentations to the board on the impact of international travel made possible by donors to the Foundation and was one of the catalysts behind the new Back on Track Fund that assists students in financial need.
Sharma has provided exemplary service benefiting students, faculty, and administration across the college, going far beyond any standard expectation of faculty. In addition, she has represented the college in the community through active volunteer work with the City of Buffalo, the Certified Community Behavioral Health Clinic for Horizon Health Services, and the Buffalo Architecture Foundation.
Nominator: Amitra A. Wall, Associate Provost
---

President's Award for Excellence in Teaching
Atta A. Ceesay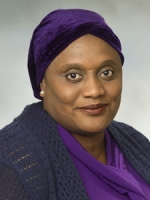 Atta Ceesay, associate professor of political science, has established a richly deserved reputation for teaching excellence since her arrival at the college in 2015. Knowledgeable, relatable, and enthusiastic, she is an active scholar who brings the latest research to the classroom and encourages participation and group learning. She uses a thoughtful approach to engage graduate students who are diverse in age and employment backgrounds. Student evaluations and colleague observations agree that her teaching is of the highest quality.
Ceesay shows creativity in involving her master in public administration (MPA) students in ongoing research efforts and in guiding students to create and implement their research endeavors that culminate in a master's project. As director of the public administration in public and nonprofit management program, she serves as the academic adviser for 45 graduate students and mentors all MPA students.
Ceesay's own scholarship helps inform her classroom presence. While at Buffalo State, she has published two articles in peer-reviewed journals, a peer-reviewed book chapter, and two technical reports for local government agencies. She has presented eight papers at professional conventions, including four at the American Society for Public Administration annual meetings and one at the International Business Conference in London. Her work advances pedagogical practices in her field.
She reinforces her teaching excellence with programmatic leadership, new program and course development, and outreach to alumni to keep them linked to the program. She coordinates an annual conference in which recent MPA graduates return to campus to share their career experiences with current students. She serves as adviser to Pi Alpha Alpha, the national honor society for students of public administration. She has also directed a service-learning project that provided the Salvation Army with data about millennials' awareness of the organization's mission, and she volunteers with local nonprofit agencies.
Nominator: M. Stephen Pendleton, Chair and Associate Professor, Political Science
---

President's Award for Excellence in Teaching
Lorena D. Mathien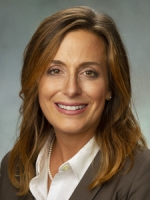 Lorena Mathien, associate professor of business, is a bright, responsible, hardworking, and impressive colleague who consistently maintains high professional and ethical standards. She is motivated by her desire to give every student in her classes the best opportunities to succeed inside and outside the classroom. Her performance in all endeavors, including teaching, research, writing, and assigned professional responsibilities, is commendable.
A highly effective educator, Mathien is continually engaged in reflective and data-driven practice, and she uses information to modify instruction to positively influence student outcomes. Her course sections, which fill up quickly, are demanding, but her manner of relating material to students and their positive praise of her teaching effectiveness are noteworthy. Mathien is a member of the School of the Professions' inaugural cohort of the Master Educator Program, a voluntary two-year commitment to learning new teaching methodologies, strategies, and educational practices that successfully close the gap between twenty-first-century workplace demands and a twenty-first-century education.
As a member of the Mathematics Department from 2010 to 2015, Mathien was instrumental in promoting the professional science master's programs in applied and computational mathematics and Great Lakes environmental science. Since joining the Business Department in 2015, she has developed undergraduate and graduate classes and has been an early innovator of service-learning and online courses. She is a strong advocate for open educational resources, writing extensively on this topic and presenting at state and national conferences.
Mathien is dedicated to the long-term success of her students and her department. She frequently advises students on career options and opportunities that connect directly to their studies. She assists them in career networking and offers letters of recommendation and constant encouragement. Despite her busy schedule, she eagerly represents the department at recruitment events and orientations and serves on various departmental committees that advance the mission of the college.
Nominator: Lisa A. Rafferty, Professor, Exceptional Education
---

President's Award for Excellence in Teaching
Thomas D. White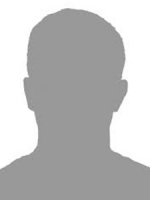 Thomas White, professor of biology, has been a devoted professor and mentor to students at Buffalo State for more than 25 years. He possesses an impressive breadth and depth of knowledge in many areas of biology and is consistently recognized by students for his ability to clarify complex subject matter through experimental techniques and critical analysis. His popular courses have become a quintessential part of earning a degree in biology at Buffalo State.
During his time at the college, he has taught at least seven different undergraduate courses, including five upper-division biology courses on such diverse topics as evolution and ornithology. He has provided hundreds of biology majors with the knowledge and skills needed to succeed in careers ranging from environmental biology to the medical sciences. In addition, through his contribution to general education and service courses, he has provided many students outside the biology major with an important working understanding of biology, especially as it pertains to human health.
White has demonstrated an extraordinary ability to adapt his teaching methods to suit course content and the capabilities of his students at the undergraduate and graduate levels. In introductory courses, he uses short writing assignments to foster an understanding of basic principles. In advanced courses, he reinforces content through rigorous laboratory assignments. He has also been known to use woods, fields, and hiking trails around Western New York as a classroom environment for firsthand field observation.
His success in teaching is connected, in part, to his success as a research scientist and scholar. His research has been featured in prestigious journals such as Science and Zoology. He has developed affiliations with numerous national academic organizations and has directed or participated in at least 16 grant-funded research studies since 1991. He is a true scholar in the classroom.
Nominator: Robert J. Warren II, Associate Professor, Biology
---

President's Award for Excellence in Teaching
Julie A. Wieczkowski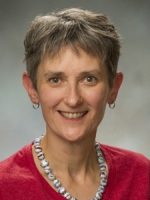 Julie Wieczkowski, associate professor of anthropology, joined the faculty at Buffalo State in 2008 and has proved to be an extraordinary teacher and colleague with a passion for and commitment to student success. She brings modern anthropological scholarship to her teaching, and students who have interacted with her as a teacher, research supervisor, mentor, and adviser report that she was instrumental in their successful transitions to graduate school and careers in the field.
Wieczkowski has substantially redesigned or introduced all nine courses that she regularly teaches in the anthropology curriculum. She is committed to offering students effective hands-on research experiences that correlate with classroom experiences and has facilitated partnerships with the Buffalo Zoo, Forest Lawn Cemetery, and other area organizations to provide those advanced opportunities.
Wieczkowski, who is the lone biological anthropologist in the department, has conducted research that is well respected and highly valued. Her work on the Tana River mangabey has led to her involvement as a research mentor and as a peer reviewer for manuscripts and grant applications for prestigious publishers and programs such as the International Journal of Primatology and the National Science Foundation. She actively integrates her scholarly activities with teaching, mentoring, and participation in professional associations at the national and local levels.
She is a constant, strong presence in her department. She has served as a mentor to the Anthropology Society and the campus's chapter of Lambda Alpha, the national honor society in anthropology. In addition, she is actively involved in numerous campus committees geared toward improving educational and campus conditions for students. She has served on the College Senate Standards for Students Committee to help address the vital issues of admission, retention, and graduation and the Scholarship of Teaching and Learning Advisory Committee to bring her experiences with high-impact and reflective learning to the campus as a whole.
Nominator: Susan E. Maguire, Associate Professor, Anthropology
---

President's Award for Excellence as an Undergraduate Research Mentor
Jevon D. Hunter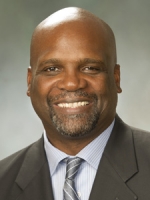 Jevon Hunter, Woods-Beals Endowed Chair in Urban Education and associate professor in the School of Education, has developed an exceptional record of encouraging and supporting student research and scholarship across campus during his time at Buffalo State. His role as a mentor evolves as he works with students over time, from introducing them to a subject to coaching them through exhaustive work to connecting them to their chosen career fields.
He has mentored 13 undergraduates representing multiple disciplines, departments, and schools. Collectively, his mentoring efforts have yielded five conference presentations alongside undergraduate students at local, regional, and national conferences; seven conference presentations in which undergraduates presented their transformational work as a result of his direct mentoring; and six research projects under his immediate supervision.
His work with undergraduates focuses on the intersection between discipline-specific literacy and technology, as well as social justice education efforts. His unique research efforts have even involved high school students whom he recruits to Buffalo State and then supports in conducting undergraduate research, advocating a "grow your own" model of undergraduate research.
In addition to his tireless dedication to students, Hunter has made major contributions to the Elementary Education, Literacy, and Educational Leadership Department. He has provided research and expertise at the highest academic level and has enhanced the department's overall knowledge and outlook, especially in developing curricula within a diverse population. He is approachable for students and colleagues, and he offers a positive perspective and graciousness that inspire others.
Nominator: Self-nominated