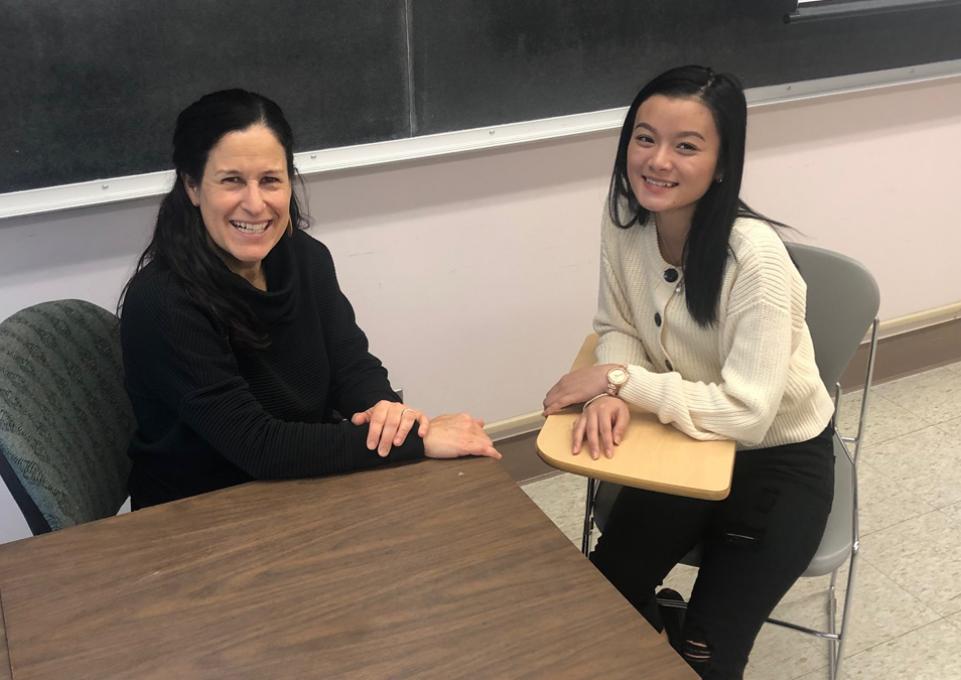 As co-director of the Professional Development Schools Consortium, Pixita del Prado Hill works to develop research-based solutions for problems that children and teachers face in classrooms—locally and around the world—every day. 
Her current research project, "Comparing Strategies to Motivate Elementary Children in Thailand and in the United States," not only will inform best practices in classrooms in the future but also is providing a living classroom for one of del Prado Hill's students. Klihtoo Paw, a Buffalo State sophomore early childhood and childhood education major, is working alongside del Prado Hill on the project, providing Paw with incredible hands-on experience and a supportive relationship that Paw has called "life-changing."
"Working with someone new to research helps remind me of the value of the research process as a way to think about ideas that are important to people," said del Prado Hill, professor of elementary education, literacy, and educational leadership. "This topic matters a great deal to Klih because of her personal background and her goal to be a teacher. By focusing deeply on a question that interests her, she and I both come learn about ways to be better educators."
Del Prado Hill and Paw's partnership is one of many across campus that has been fostered, in part, thanks to the Early Undergraduate Research Opportunity (EURO) and the Second Year Undergraduate Research (SYUR) programs. Both programs serve to give undergraduate students at early points in their college careers real-world experience in research and scholarly projects.
The EURO program, initiated in spring 2017, provides students recruited for the program, like Paw, with early exposure to the research process by allowing them to assist more advanced students or faculty members with their research and scholarly activities. Likewise, the SYUR program provides research opportunities for second-year undergraduate students to work with faculty members. 
"Both Buffalo State faculty and their freshman and sophomore students are indeed fortunate to have access to the opportunities for close research collaboration that the EURO and SYUR programs afford," said Carolyn Guzski, interim director of undergraduate research and an associate professor in the Music Department. "It's a win-win situation for all." 
Paw, who came to Buffalo as a third-grader from a refugee camp in Thailand, is uniquely positioned to assist with the project, as she is a native Karen speaker and still has ties to Thailand. 
"It changes your life," del Prado Hill said, describing students who take on research projects. "You start to think about all the possibilities you have. Our goal, at least in PDS, is to have the students build leadership skills and start to see themselves as teacher leaders."
The project Paw is working on with del Prado Hill involves understanding how children are motivated to learn in both places. Paw will travel to Thailand in May 2020 and interview teachers from the Umpiem Refugee Camp. She's also interviewing teachers in Buffalo and some teachers in Thailand through Facebook.
Paw is also working with del Prado Hill to translate documents and interviews.  
"She's translating all of the data-gathering tools," del Prado Hill said. "She's translating those things into Karen so that we can ask the teachers in Thailand to help us with this study."
For Paw, working with del Prado Hill has been a great experience. The research covers an important topic to her, and she's thankful for the opportunity to work with del Prado Hill. 
"She is the best mentor, mother, and adviser," she said. "Working with Dr. Del Prado is like working with my idol, because every step I take, she's always there for me. She inspires me and motivates me to keep on going and to never give up."
 
---

Pictured: Pixita del Prado Hill (left) and Klihtoo Paw.