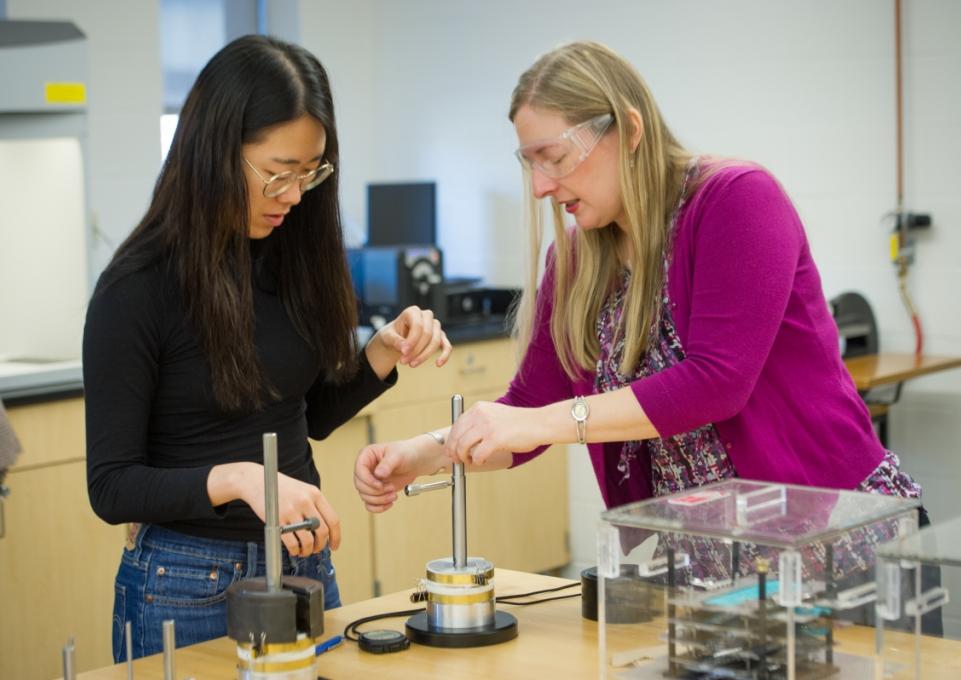 When clothing retailer Forever 21 announced its bankruptcy filing in late September, Arlesa Shephard, Buffalo State associate professor of fashion and textile technology (FTT), wasn't surprised.
Forever 21, which grew exponentially from the 1980s through the 2000s selling cheap, trendy clothes, is planning to close 350 stores in the United States and abroad. The retailer is the epitome of "fast fashion," or cheap clothes mimicking the latest runway styles. Such clothes are also easily disposable.
The Environmental Protection Agency reported that the United States generated 11.9 million tons—or about 75 pounds per person—of textile waste in 2015, the last year for which the statistic was available. This represents a 750 percent increase since 1960.
Shephard has been researching the opposite trend—slow fashion—since 2013. Clothing in the slow-fashion model is made with more care from higher-quality fabric and with less harmful chemicals. The clothes cost more, but last longer.
Shephard and her research partner, Sanjukta Pookulangara, a University of North Texas associate professor of merchandising and digital retailing, completed a case study with fast-fashion European retailer H&M to see if and how the company implements eco-friendly ideas touted in the company's sustainability study.
Interestingly, H&M and Zara, another fast-fashion retailer, continue to do a brisk business, selling primarily to teens and young women; however, they both insist they're implementing sustainability into their business practices. H&M has introduced a "Conscious Collection" and vows that by 2020 all its cotton will be sustainably sourced, which means organic, recycled, or sourced through the Better Cotton Initiative. Zara has declared a similar goal for 2025, according to Shephard.
"Forever 21 has done nothing in terms of sustainability, as far as I can see," Shephard said, adding that while the actions of H&M and Zara are laudable, both companies have been criticized for not being fully transparent about their initiatives and for continuing to follow a fast-fashion business model.
During an era when traditional shopping malls are declining, Forever 21 expanded, opening stores as recently as 2016 with multiple floors and introducing new lines of clothing for children and home furnishing. This, coupled with its devotion to the fast-fashion model, resulted in its demise, many fashion industry experts have maintained.
Companies with a cheap-fashion business model reach a point of no return, Shephard said.
"They are running out of new frontiers and countries with cheap labor to make the clothes," she said.
And consumer attitudes are changing.
In 2013, Shephard and Pookulangara conducted focus groups with students from their respective institutions to gauge consumer perceptions. Although the participants were willing to accept the slow-fashion movement, they didn't possess enough knowledge to make informed purchasing decisions.
In a 2018–2019 study they conducted in sustainability in pedagogy, the professors found that students are much more educated about sustainability; slow-fashion terminology is penetrating the consumer-retailer vocabulary.
"Many brands are now talking about 'slowing' their design and/or production process to make more conscious decisions, and many sustainable brands describe themselves as slow fashion on their websites and in social media," she said. "College-age consumers are also more likely to share their fashion choices on social media, and therefore, influence their friends to be more sustainable."
Shephard points to popular online retailer Fair Indigo, which recently advertised an $80 knit dress she described as very well made.
"You could find a knit dress for around the same price at a mass-market retailer," she said, "that wouldn't last nearly as long."
A key part of moving the marketplace toward sustainable practices is educating the next generation of textile makers, fashion designers, and fashion merchandisers.
And this is exactly what Shephard and her research partner are doing.
"We're incorporating the ideas and ethics behind sustainability in the curriculum from textile to global issues courses," Shephard said. "We're not changing course content but teaching our lessons through a sustainability lens."
---

Photos by Bruce Fox, College Photographer