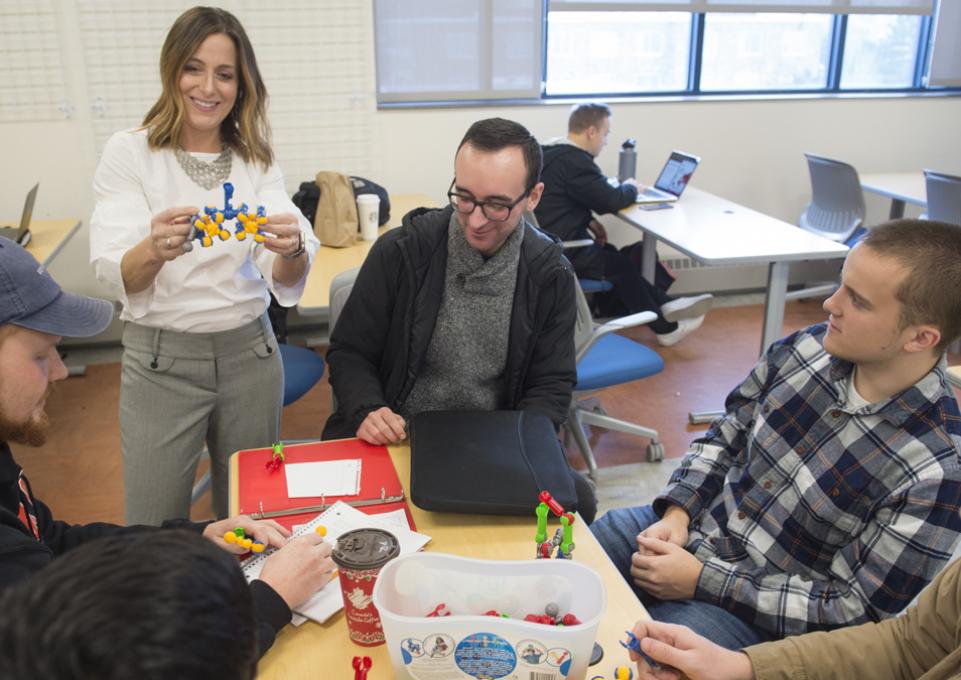 In the late '90s and early '00s, Buffalo State's dean of the School of Education, Wendy Paterson, noticed a disturbing national trend: reading for pleasure was declining among children and teens. Then she discovered something that might reverse that trend—the emergence of a certain boy wizard who was performing magic on book sales.
"One of my teachers in the Professional Development Schools Consortium told me I had to read Harry Potter and the Goblet of Fire [the fourth of J. K. Rowling's immensely popular children's series]," said Paterson, who at the time was chair of the Elementary Education and Reading Department. "We knew these books were going to revolutionize reading for students in third grade through high school."
To galvanize excitement about reading in the classroom, Paterson turned Bacon Hall 116A into Harry Potter's fictional school, Hogwarts, for her graduate course Developing Literacy through Literature. Beginning in 2003, she taught it every summer that premiered a new book in the series until 2009. She resumed teaching the class in spring 2018 and will offer it again this coming spring.
Each week, she becomes a different character in the series (complete with costumes), beginning as deputy headmistress Professor Minerva McGonagall. In the first class, just as at Hogwarts, the students are sorted into "houses" by the ancient sorting hat. Her students, most of whom are active teachers, remain within their houses all semester.
"This encourages collaborative learning and gives me a chance to show the teachers how to achieve 100 percent engagement of students through small group work," Paterson said.
She explained that the Harry Potter theme creates a framework for studying multiple genres of children's and young adult literature.
"When my students begin to be more relaxed and get closer to their childhood selves, I teach them how to use puppetry in the classroom," she said. "I bring out the clay, the finger paints, crayons and Play-Doh. I want them to learn to think and feel the way a child does when he or she reads a great book."
While this sounds like fun, Paterson notes that all the lessons are scientifically grounded in Louise Rosenblatt's theory of the aesthetic stance in reading and Howard Gardner's theory of multiple intelligences.
Although most Buffalo State classrooms do not go so far as to replicate children's books, innovative approaches to teaching occur in every classroom building on campus.
"Because Buffalo State is such a teaching-focused institution, our faculty are committed to making connections with students in creative and unique ways," said Buffalo State's interim provost, James Mayrose.
In associate professor of business Lorena Mathien's Operations Management course, she's found that Legos and other building sets help her students better understand manufacturing, making prototypes, and sub-assembly work.
Meanwhile, associate professor of communication Ruth Goldman is teaching her students the power of gleaning wisdom from other generations in her Introduction to LGBTQ+ Studies course. As part of the new Intergenerational Conversations project this fall, she invited 26 members of the LGBTQ+ community to visit different classes.
"The students converse with them in groups of two or three, and then they write reflection journals about each conversation," Goldman said. "They will do a project at the end of the semester incorporating all of their stories."
Last spring, Kathy Doody, associate professor of exceptional education, decided to give one of her graduate early childhood courses a new spin by having the students simulate a pregnancy and using the app Ovia to track it.
"I put them in groups of first, second, and third trimesters. They have specific questions that they answer about their pregnancies and how their babies are developing at different stages of gestation," Doody said. "They learned quite a bit about the importance of prenatal health on cognitive and physical development, including ways you can prevent some birth defects. I was happily surprised to see how positively they responded."
Cameron Herman, an assistant professor of sociology who joined the Buffalo State faculty this fall, uses timely non-academic content—magazine articles, news stories, films, music, novels, editorials, and social media—to foster students' ability to apply concepts and theories to the real world.
"This practice often leads to students introducing current events and news stories to class of their own volition, thereby taking ownership of their learning experience," Herman said.
Other faculty members have also noted that teaching outside of traditional lectures results in more student engagement. When Mathien began teaching Operations Management in 2015, she decided to flip the classroom. Students access the readings and lectures online while focusing on active learning and hands-on activities in class.
"The students often come to class with questions from the online modules," she said. "And it's amazing to see them crossing those questions off the list when they start doing the activities."
Likewise, Doody noticed that with the simulated pregnancy exercise, students completed every assignment and did all the readings, something that didn't always happen when she taught the class in a more traditional way.
By the end of Paterson's Developing Literacy through Literature course, her students have read about 150 children's books and have made individual scrapbooks documenting everything they learned.
And this is helping them on the job front.
"Showing employers the scrapbooks has been a big hit," Paterson said. "They can see all that students have learned and are capable of doing."
 
---

Pictured: Associate professor of business Lorena Mathien's Operations Management course.

Photo by Bruce Fox, campus photographer.