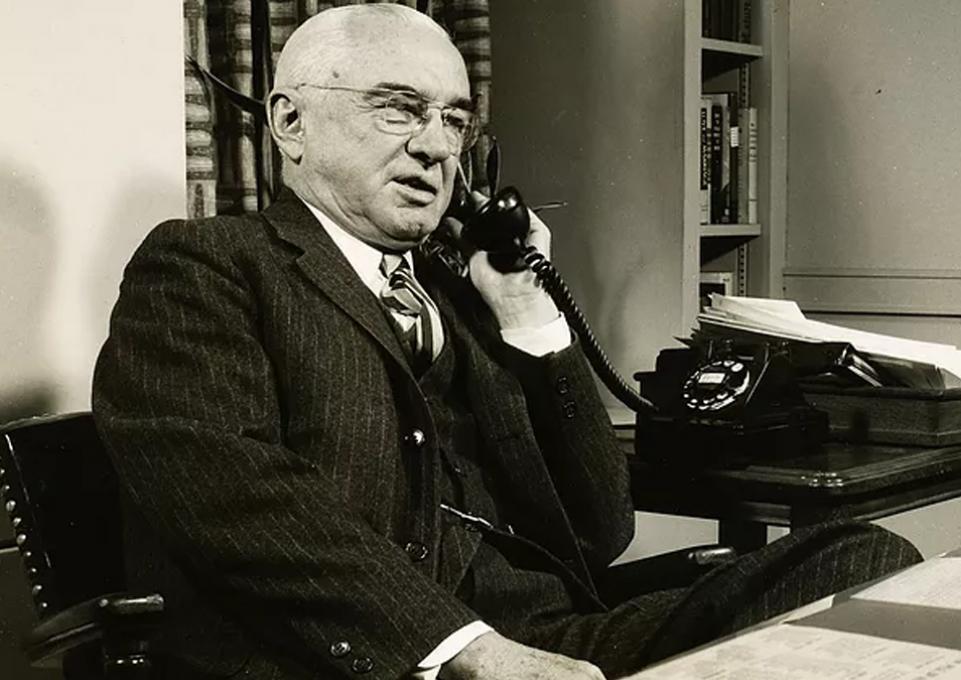 In 1948, an advertising executive named Alex F. Osborn published a book called Your Creative Power: How to Use Imagination, in which he introduced the concept of brainstorming. Five years later, in 1953, Osborn published a second book, Applied Imagination, which described the creative problem solving process he had developed. 
Together, the books, along with further work Osborn did on the topics with then University at Buffalo Professor Sidney Parnes, established the foundation of what is now the International Center for Studies in Creativity at Buffalo State College.
"Osborn founded an internationally famous—and still in existence—ad agency, BBDO, where he got this idea that creativity is something that we should be able to develop," said Gerard Puccio, professor and chair of the ICSC. "He saw it as a crucial professional skill."
Osborn believed that education had a knack for undermining imagination, and he resolved to change that, Puccio said. To that end, and working with Parnes and another UB faculty member, Ruth Noller, Osborn started a program in creative studies at UB. The program was limited to non-credit hours and evening classes, meaning there was "limited success," Puccio said.
Parnes and Noller were soon invited to come to Buffalo State, with the prospect of starting a formalized degree program around creative studies. 
In 1967, the first graduate courses were taught in creative studies by Parnes and Noller at Buffalo State, officially putting the program on the map. The Creative Studies Collection of literature on creativity, housed in E. H. Butler Library, was also started that year.
Fifty-two years later, the program is stronger than it's ever been, Puccio said. Part of the reason rests on the idea that creativity is an ability all people possess, and all people can develop.
"It's an ability to produce new ideas that have value," he said. "That's fundamentally the definition of creativity."
The ICSC now offers several academic programs for students: A master of science degree in creative studies is offered either on campus or through a blend of on-campus and distance-learning courses. A graduate certificate program in creativity and change leadership includes six courses on the creative process, facilitation, assessment, training, theory, and leadership; while undergraduate minors in either creative studies or leadership can also be attained. In recognition of Parnes and Noller, ICSC offers the Sidney J. Parnes and Ruth B. Noller Creativity Award, along with other competitive scholarship awards.
ICSC also offers several public programs, including a certificate in creative leadership and facilitation for innovation, as well as the MOOC, or massive open online course, "Igniting Your Everyday Creativity," a seven-week course that explores the four key aspects of creativity: the creative process, person, environment, and product. The center offers one-day public creative-thinking workshops on campus, as well as the Creativity Expert Exchange (CEE) and Creative Problem Solving Institute (CPSI) annual conferences.
All programs focus on teaching both "little c" and "big C" creativity, Puccio said. The former addresses day-to-day problems, while the latter focuses on larger, societal issues. 
"The thought process is exactly the same," he said. "You have to go through the same thinking, whether you're solving an everyday life problem or whether you're solving a problem that is at a much larger societal scale."
Being a creative thinker in the twenty-first century is vital, Puccio said. The pace of change through technological advancements is quicker than it's ever been. People have to be nimble and flexible, and they have to understand what's happening around them in order to keep pace. People in leadership positions have to not only keep pace but also solve complex problems. 
Students from all backgrounds enter the ICSC graduate program, Puccio said, including those looking to advance their careers, teachers hoping to be more creative in the classroom, and professionals in search of a career in creative studies.  
"We have teachers, we have managers, we have engineers, we have lawyers. We've had Catholic priests. You name it, we've had someone," Puccio said. "One of the things that makes it interesting to teach is the diversity of backgrounds. It makes it interesting to teach and to conduct class because it's not one narrow view of the world."
Through the 29 years Puccio has been involved with the program, he's seen a lot of change. Creativity studies wasn't always taken seriously. Now, it's regularly included as a top area of study for needed skills in the workplace. 
"You have to wonder: What are the skills that make someone future-proof?" he said. "What puts you in a place where you will be able to quickly flex to the changing times? There's wide agreement that it is creative thinking and creative problem solving."
The ICSC will hold a BYOB (bring your own book) event on Thursday, November 14, from 6:00 to 9:00 p.m. in the future spot of the Creativity Collection in the newly remodeled Butler Library. The evening's program includes a social hour, presentations from students, a "State of the Center" address, networking, and other news on ICSC. Food and music will be provided. As the program looks to expand the collection, guests are asked to bring along a book to donate. Sign up online to donate a book or register for the event.
 
---
Pictured: Alex Osborn, circa 1960, courtesy of the International Center for Studies in Creativity at Buffalo State.