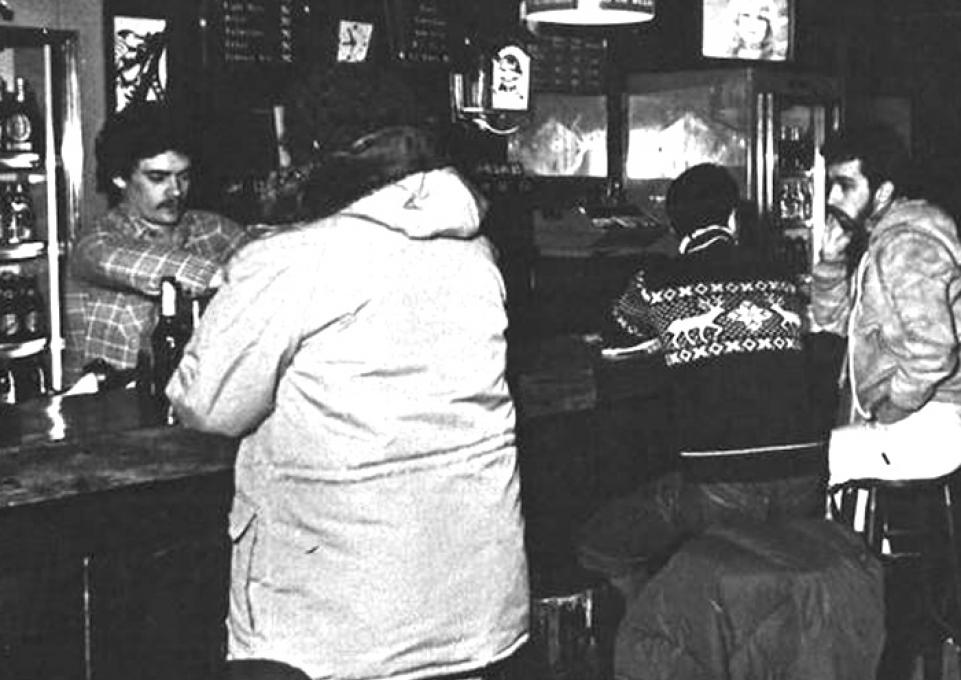 Susan Carmichael, '90, a New York City celebrity estate manager, can practically still smell the hot sauce. When she was a student at Buffalo State, she served drinks and chicken wings from behind the bar at the Parlour Lounge, a campus watering hole then located in the lower level of Moot Hall.
Open Wednesday through Friday, it was a popular social spot for students and faculty alike.
"I remember all my friends came to the Parlour," said Carmichael, who was a communication major and involved in United Students Government (USG). "It was very small; maybe six people could fit at the bar. People would just crowd in. It's where I learned how to make a really good Long Island Iced Tea and true Buffalo wings."
The secret for the latter? Lots of butter, she recalled with a laugh.
Opened in 1960 and named for Adelbert Moot, a prominent lawyer active in Buffalo civic affairs, Moot Hall is now home to the college's Financial Aid, Admissions, Registrar, and Enrollment Management offices. However, from 1960s through the 1990s, it served as a community space and a dining facility for the nearby residence halls. Along with the Parlour, it housed the Estate dining room, the Rathskeller, a restaurant/café, and the Oak Room, which was used for special events including many literary readings.
Tom Reigstad, professor emeritus of English who began teaching at Buffalo State in 1981, remembers them all. He said the Parlour provided a nice hangout for faculty across academic disciplines to have a beer and chat.
In the mid-'70s, there was a weekly open-mic, according to David Meinzer,'75, director for United Students Government (USG) Press Services who began working at Buffalo State 41 years ago. 
"My friends did performances," he said. "I was there a few times, but have no recollection of performing myself."
Another great meeting spot was the Rathskeller, which served breakfast and lunch.
"The atmosphere was cheery and collegial," Reigstad said. "You'd see students dining, as well as colleagues and the college president."  
Above the Parlour was the Oak Room, accessible by a circular staircase, recalled David Lampe, professor emeritus of English who taught at Buffalo State from 1969 to 2006. For two decades, the Oak Room provided a space for many of the poets, novelists, and scholars who visited campus. Lampe booked some 70 writers and scholars and found campus sponsorship for their visits.
"The guests were very special—from Western New York medievalists to SUNY scholars and writers, as well as ones from Cornell, Harvard, and Oxford," he said. "Probably the most famous was Sir David Wilson, director of the British Museum."
Other guests included novelist William Kennedy, who won both the Pulitzer Prize and Guggenheim Award; Irish poet John Montague; and Canadian poet-novelist-publisher Barry Callaghan. The latter two received honorary degrees from Buffalo State.
The Parlour, which had closed at one point and then reopened in the 1980s, didn't last long its second time around. Carmichael attributes this to New York's drinking age rising from 19 to 21 years old in the late 80s.
"The bar was losing money," she said. "It did offer something nice. I think it was ahead of its time."
During the campus's renovation sweep in the late 1990s, all of the eating establishments closed or moved because the college decided to turn Moot into an administration building. The $7.25-million adaptive reuse project began in 2000 and was completed a year later.
Lampe continued the literary readings until his retirement; they just moved to the E. H. Butler Library or the Burchfield Penney Art Center.
"People loved the Oak Room," he said. "Students were encouraged or required to attend the readings. But my colleagues would turn up, too. It was a nice setting."
Now, Moot's former identity as a community gathering place filled with hungry students, relaxing professors, and literary stars is just a memory.
For Carmichael, the Parlour provided an interesting work experience that resulted in friendships and one lasting recipe.
"To this day," she said. "I can still make a really good wing."