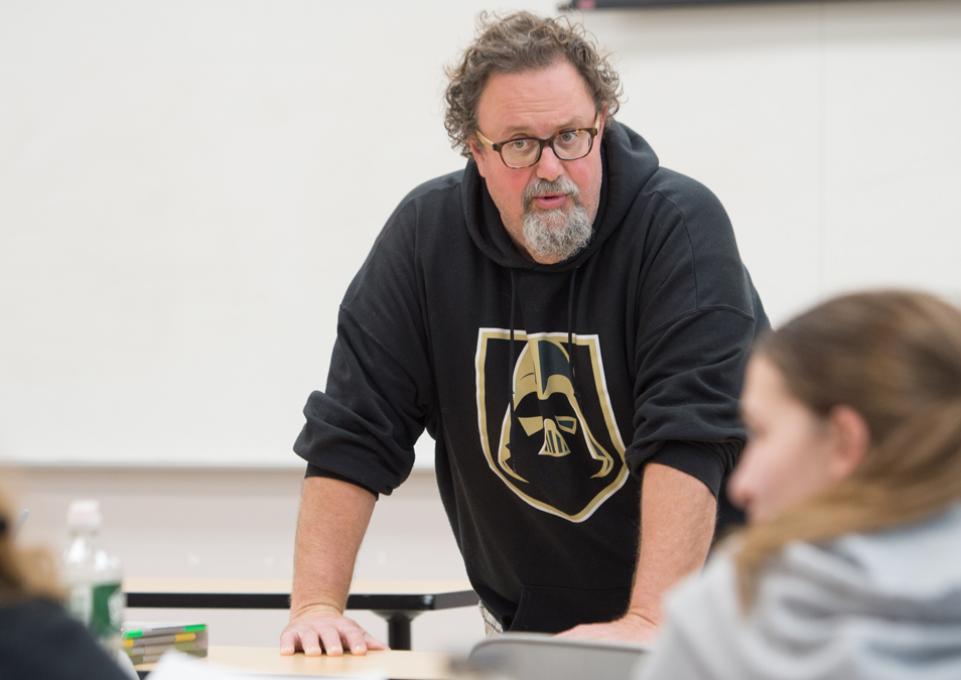 Susan C. Schulman, a reporter at the Buffalo News, has been working as a journalist for over 40 years. For the last three, she's also been a lecturer at Buffalo State College, teaching a print journalism class in the Communication Department two nights a week. 
For Schulman, teaching the class serves a distinct purpose. 
"I really think that at my age, us old folks need to give back and help the next generation," she said. "I've always believed that. It's an obligation that we have."
Like Schulman, lecturers on campus bring their real-world experience into the classroom and help students understand what is needed to get jobs in their chosen career fields. They also provide poignant career and life advice, and networking opportunities for students. 
"The real-world experience does make a difference," Schulman said. "I think it's inspiring to students, but also gives them a real sense of what the business is really like."
For instance, Schulman said, she enforces strict deadlines on her students, just as they'd face working in a newsroom. 
"If something isn't in by midnight on Friday, and I don't mean 12:01 a.m., they'll get points off for it," she said. "This is the real world. I think it's really good for the students to learn."
Chanel Mejia, '15, also likes to bring her experiences working as a licensed social worker into the Introduction to Social Work class she teaches on Tuesday evenings. She received her M.S.W. from the University at Buffalo in 2017.
Mejia's day job is at the Center for Hospice and Palliative Care, where she assists patients who have to make difficult end-of-life decisions. That could involve having a conversation with a patient about a treatment that's not working, and figuring out the next step, or helping someone who's been newly diagnosed with a serious, life-threatening illness. 
"I think for now where I work, it's more like psycho-social, emotional assistance," she said. "Yes, you help with resources, but these are people who are going through real-life stuff. These are people whose lives are actually on the line."
The situations Mejia deals with during the day turn into examples for her students during the class. While textbook learning is important, it doesn't cover everything that will happen on the job, she said.
"You need to be realistic," she said. "I try to bring in examples from my job, and ask the students how they'd react."
The students in the Social Work program have volunteer experience that is required, and Mejia tries to be a resource for that, as well. Sometimes, students will present her with a scenario that happened while they were volunteering and ask how she would have handled it. 
"It truly helps them understand," she said.
Sometimes, Schulman runs right from her work at the News to the classroom. She may be teaching about something that night that she had just dealt with several hours beforehand. 
"We did FOI laws, and I had just filed one myself," she said, referring to a freedom of information law request. "It really helps to make the students understand why this matters."
Roy Bakos, '11, '15, (pictured) received both his bachelor's and master's degrees in English from Buffalo State. Now, he's a lecturer in the English Department, where he teaches College Writing. His background, however, is in the hospitality and service industry, where he's been working since he was 16. After taking a 13-year break from college, Bakos went back to school when he was 40 to earn his degrees, and that gives him the experience to speak with students honestly about school, he said. 
"It's not just automatic and easy," Bakos said. "You can be smart and still not succeed. It's not only about being smart; it's about working. And so the story actually helps with my teaching." 
Bakos now manages the Buffalo Distilling Company, a distillery and restaurant in Larkinville. On Tuesdays and Thursdays, he teaches from 8:00 a.m. to 3:00 p.m., and then heads to the distillery until about 12:30 a.m. Despite the long days, Bakos said he wouldn't have it any other way.
"It can be daunting, but I love both jobs," he said. 
Working the long hours helps him relate to students who also may be working long hours, in addition to going to school, Bakos said.
"I think it really helps with rapport," he said. 
While on their face, the two fields—hospitality and English literature—may seem completely different, that's not the case, Bakos said. 
"At the end of the day, I don't think hospitality and humanities are that different," he said. "In short, when I'm teaching writing or teaching a literature course, I'm sharing culture with a whole bunch of people who want to know why we share our culture that way through stories. When I'm behind the bar or I'm putting on a party, I'm sharing culture about who are in Buffalo, who my distillery is or my restaurant is, and what our history is. It's really not that different."
Despite the changes in the newspaper industry over the last decade, Schulman said, she loves her job, and she tries to bring that enthusiasm to the classes she teaches. 
"It is an important job," she said, referring to journalism. "It's part of our democracy. Not many professions are protected by the Constitution. That's another thing I tell students. This is something that is a constitutionally protected job. There's a mission here that isn't just about going to work every day."
---

Photos by Bruce Fox, campus photographer.