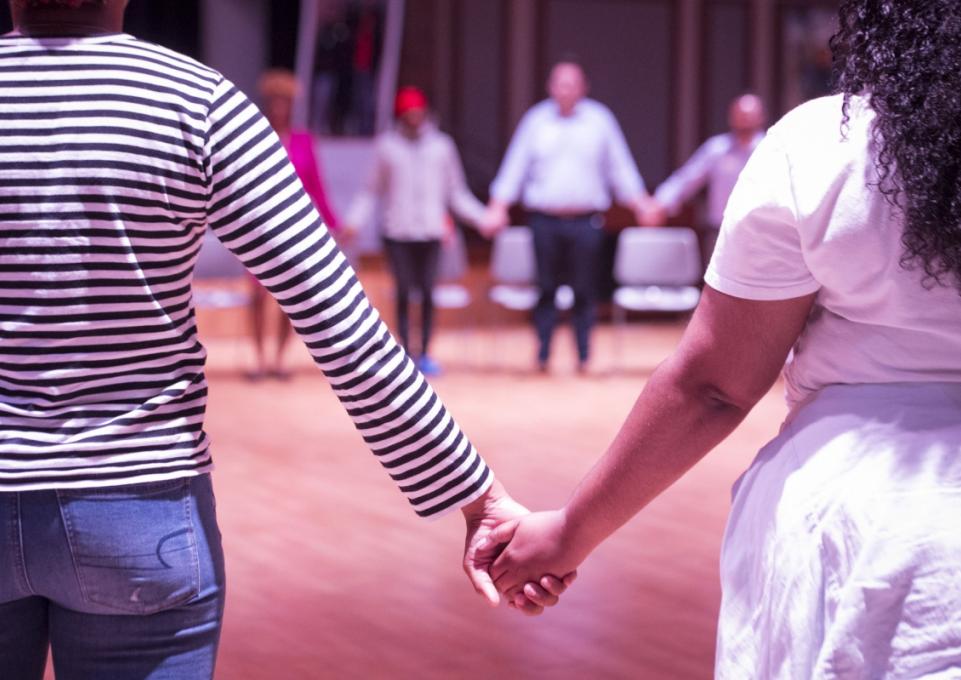 Members of the campus community came together on September 4 to celebrate the opening of the new Restorative Justice Center and to participate in the first Restorative Justice Community Circle.
The event's theme, "Exploring Dimensions of Identity," promoted connections through open dialogue and trust-building exercises, according to Janelle A. Brooks, assistant dean of student conduct and community standards.
"Everyone seemed to be very energetic and very engaged in the activities and the conversation," Brooks said.
About 40 students, faculty, and staff members attended the circle, including President Katherine Conway-Turner and Timothy W. Gordon, vice president for student affairs, who expressed his support for the center.
"The opening of the Restorative Justice Center supports Buffalo State's core values related to inclusion and social justice," Gordon said. "The center provides a vehicle for students to explore identity and difference as well as a way to address individual or community harm when an individual or group action has negatively impacted them."
Restorative justice, or restorative practices, is rapidly being adopted by community organizations and educational systems around the world.
"A number of Buffalo State students have been exposed to the power of restorative justice on a global scale during our trips to Rwanda with the Anne Frank Project," said Buffalo State President Katherine Conway-Turner. "Rwanda's post-genocide reconstruction efforts have shown us that healing through community connection is very powerful."
The restorative justice process involves bringing together harmed and accused individuals for purposes of mediation or conflict resolution. Buffalo State's new Restorative Justice Center, located in Bengal Hall 15 (lower level), will serve as a space to resolve conflicts pertaining to individuals who have violated the college's Student Code of Conduct in some way.
The community circles, designed to reaffirm the college's commitment to a civil and caring academic community, will be held on the first Wednesday of each month with different themes to promote fresh perspectives.
.@buffalostate's inaugural Community Circle celebrated the opening of the Restorative Justice Center on campus. Tonight we explored the dimensions of our identities, both shared and unique, and came together as one. pic.twitter.com/wNJ4wXW6n2

— Kate Conway-Turner (@BuffStatePrez) September 5, 2019
Brooks said that while the college has been implementing restorative justice practices for years, the center will provide more comprehensive methods of mediation and other assistance to individuals in need.
Student Conduct and Community Standards used research, branding, and student feedback to make the concept more relevant to the college's core values and the student perspective. The center has combined those three elements to help bring restorative justice to campus on a larger scale," Brooks said.
Discussion circles will serve as preventive forms of restorative justice when no harm has been done, while conferences will be reparative to follow up with individuals who have caused harm.
Students seeking involvement are encouraged to volunteer as restorative justice partners, which will offer opportunities to help facilitate community circles and conferences and to help with marketing.
For more information on the Restorative Justice Center and how to become a partner, please contact the Student Conduct and Community Standards Office in Bengal Hall, or visit the SCCS Restorative Justice web page.