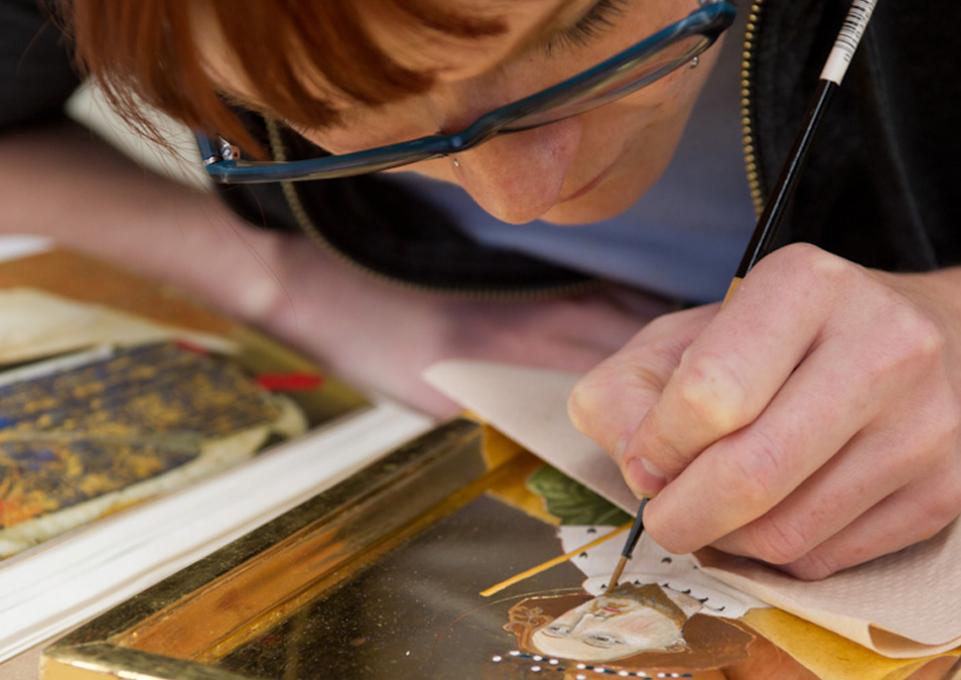 Buffalo State's Patricia H. and Richard E. Garman Art Conservation Department has received a $250,000 gift from the Stockman Family Foundation.
The gift will be added to the Stockman Family Endowment, which was established at the college in 1996. It is intended to fund fellowships in the graduate program that brings in a class of 10 future conservators of fine art and cultural heritage every fall.
The late Hervey S. Stockman Sr. and his wife, Sally, were accomplished artists who set up the Stockman Family Foundation Trust in 1991 to benefit arts, cultural, and educational institutions. Based in New York City, the foundation includes funding for organizations that support specific art conservation projects, encourage acquisition of equipment or laboratory facilities, and provide teaching opportunities in the field.
The Stockmans began giving to the art conservation program years ago, and their children, including son Hervey "Peter" Stockman, the president of the foundation, and his wife, Dyson, continue to make contributions, noted Patrick Ravines, director and associate professor of art conservation.
"We are deeply grateful to the Stockman family," Ravines said. "As we prepare to celebrate the department's 50th anniversary next year, we are humbled by the family's recognition of the department's ongoing contribution to the preservation of art and cultural heritage. Gifts such as this one enable us to attract the best and brightest students to the program."
The Art Conservation Department's three-year graduate program is one of only four such programs in the United States. Opened in 1970 as the Cooperstown Graduate Program in the Conservation of Historic and Artistic Works, affiliated with the State University of New York College at Oneonta and with the New York State Historical Association in Cooperstown, the art conservation program transferred to Buffalo State in 1987. 
Buffalo State is a member of the Council of Graduate Schools in the United States, and all visual arts programs, including art conservation, are accredited by the NASAD (National Association of Schools of Art and Design). Over its history, the department has graduated more than 460 conservators who devote their lives to the preservation of art and cultural heritage. They work in museums, historic centers, libraries, archives, regional centers, and private businesses across the country and overseas.
---

Photo by Bruce Fox, campus photographer.