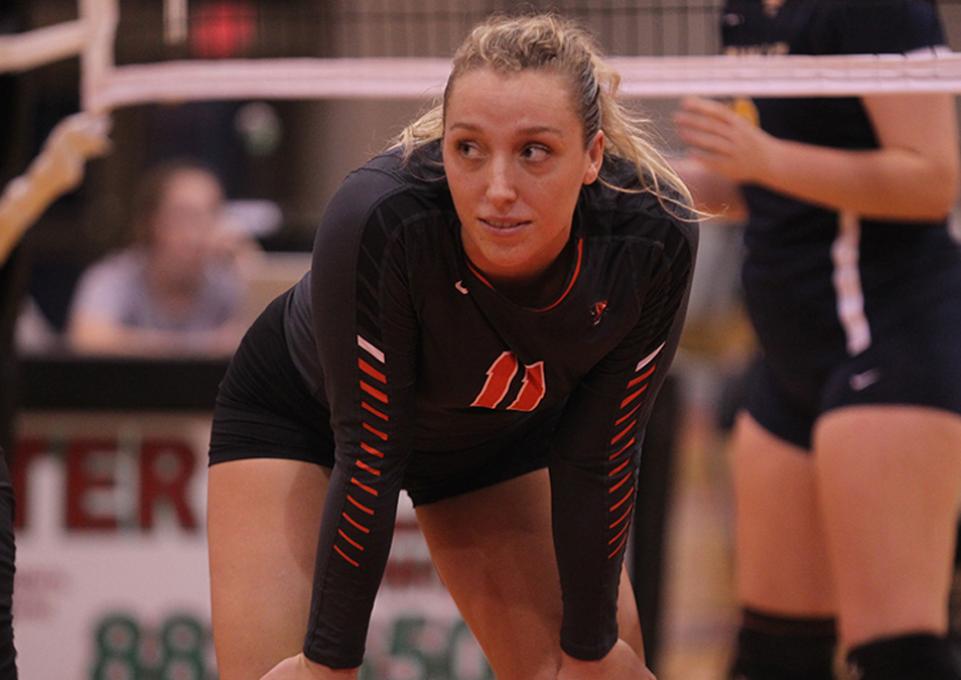 Coming out of high school in Syracuse, New York, Eimile O'Brien (pictured) knew she wanted to play volleyball, her sport of choice, in college. But she also wanted to get a good education and be a well-rounded student. Buffalo State was the perfect choice. 
"My dad actually did construction here on the Walden Galleria mall, so he was here for that," she said. "He always loved Buffalo, and would tell me stories about Buffalo all the time and how it was always nice here. So I came to the area to check it out, and I knew that I wanted to go to a state school."
O'Brien said she visited several campuses during her search and Buffalo State's location, in the heart of the city, proved to be a major selling point. 
"There's a lot going on here," she said. 
Because Buffalo State is an NCAA Division III school, its student-athletes are able to participate at a high level of competition while still having the time to focus on their studies and extracurricular activities.
For O'Brien, a senior economics and finance major, that was an attractive option. She was able to play volleyball and actively participate in clubs and activities on campus.
The National Collegiate Athletic Association (NCAA), the governing body for intercollegiate athletics in the United States, categorizes college sports using a three-division system (I, II, and III). In general, larger schools compete in Division I and smaller schools in II and III. Division III schools are not permitted to offer athletic scholarships to their student-athletes, while D-I and D-II colleges and universities can. Division III is the NCAA's largest division, with around 450 member institutions, comprising roughly 40 percent of all NCAA student-athletes.
"Division III gives you the opportunity to do more than live your life through sports," she said. "You have time to go out and get involved in your community and the things that are going on around campus, and your education. The NCAA always preaches student-first, before athlete, but I think in Division III, that really comes through in all aspects."
Jeff Ventura, associate director of Intercollegiate Athletics, said there's a misconception people have that Division III teams don't have top-caliber players. On the contrary, he said, Division III sports are played at a "very high level."
"Our student-athletes are among the very best players on their high school teams and their club teams," Ventura said. 
The pressure on Division III student-athletes is reduced compared to Division I or Division II players, Ventura said. That allows the student-athletes at Buffalo State to experience more of what the college and community have to offer. 
"It's high level, but it's not winning at all costs," he said, noting that the athletes on campus still have heavy, sports-specific schedules. "It's not all consuming."
Ventura said that O'Brien is a perfect example of a high-end student-athlete who's taken advantage of the other activities campus has to offer. 
"I think D-3 offers the best balance," he said. 
Division III also provides an opportunity for coaches to foster a relationship with the student-athletes, Ventura said.
"I choose to work at a Division III institution," he said. "I think that we get to know and care about our student-athletes as people. I think we're able to see the way we can affect student-athletes and turn them into young adults going out in their future field. I think our coaches support our athletes a little differently on the human side of things."
One of the activities O'Brien has taken part in is the Student-Athlete Advisory Committee, both at Buffalo State and at the NCAA level. Last year, she went to the NCAA convention in Orlando, Florida. While there, she noticed that many of the student-athletes being nominated for awards came from Division III institutions. 
"All of the people who were up for like 'Woman of the Year' awards and community service awards, and those kinds of awards, were D-3 athletes," she said. "That's because D-3 gives you the opportunity to not just dictate your life in sports." 
Zach Remers, a senior biochemistry major and forward on the men's ice hockey team, said Buffalo State gave him the ability to earn his degree while playing competitive ice hockey. Tashana Dixon, a sophomore sprinter and criminal justice major, echoed the sentiment.
"I chose to participate in Division III athletics because D-3 stresses the importance of being a student first and an athlete second," she said. "Also, D-3 campuses have an intimate setting where students can build a connection to their peers, faculty, and coaches."
During the week of October 21-25, a number of themes will be presented through social media in regard to NCAA sports through the second annual Diversity and Inclusion Social Media Campaign. Themes include "This Is Who We Are," an exploration of core values and identities among student-athletes; "Broadening Our Horizons," an attempt at creating connections across campus; and "Better Together," which aims to showcase the strength of diversity on campus.  
For O'Brien, who hopes to work in green energy in the future, leaving Buffalo State will be difficult. The experience here has been "transformative," she said.  
For anyone considering Buffalo State, and a Division III athletic experience, O'Brien had some advice. 
"If you're looking for a school that not only offers a New York State level education, but limitless opportunities in academia, social life, and clubs, Buffalo State is the perfect place," she said. "And then you have the city of Buffalo, and all that comes with that. It's the perfect balance."