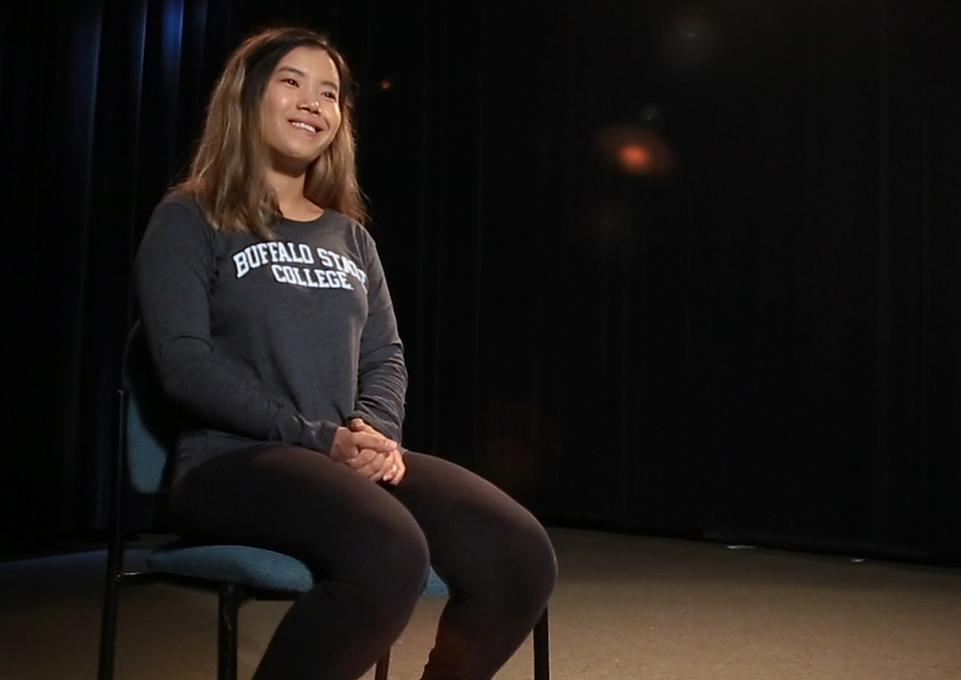 While growing up in a refugee camp in Thailand, Buffalo State senior Beh Meh was inspired to become a teacher.
"I had a social studies teacher and an ESL [English as a Second Language] teacher who changed my perspective and made a huge difference in my life," said Meh, who was born in Myanmar (formerly Burma) and lived in the refugee camp for nine years. During middle school, Meh and her family moved to Kenmore, New York, where she graduated from Tapestry Charter School.
Now an elementary education major on target to graduate next May, Meh has completed field work in three Western New York classrooms, including her current placement in Anthony J. Schmidt Elementary School in Lakeshore. She said she loves interacting with the fourth-grade students there.
"My favorite part is helping a student understand a math problem," she said. "If I'm able to explain a problem and he or she gets it, that makes me really happy."
The reputation of Buffalo State's School of Education and its proximity to her family's home made the college a natural fit; however, the transition was difficult at first.
"With English being my third language, it was hard to keep up with the classroom readings," she said. "From time to time, I would go to my professors for extra help. I'm the first student in my family to go to college, so I had to figure everything out on my own."
Her tenacity paid off. She's not only mastered a number of courses but also found pleasure in the tough ones, such as MTH 223 with Nirmala Nutakki, lecturer of mathematics. It's become her favorite class.
"Even though I've really struggled, I've learned a lot," Meh said.
Other professors who have inspired Meh include Gliset Colón, assistant professor of exceptional education. She taught Meh to write her first lesson plan.
"At the beginning, I got so stressed I cried multiple times," Meh said. "But eventually, I learned and got better. Dr. Colón always told me to believe in myself and encouraged me to come to her for extra help. She's helped me grow as a person."
Likewise, Colón noted that Meh has found her voice as a teacher candidate.
"She is a fierce advocate for multilingual students, as she has the experience that allows her to be empathetic and kind to her students," Colón said. "She is now involved in several community organizations, alongside other teachers and faculty in the field."
Indeed. Meh has worked with immigrants and refugees through AmeriCorps and the community Buffalo Immigrant Leadership Team. In these roles, she has tutored students at Lafayette International Community High School of Buffalo. She has also worked with Buffalo State's Science and Technology Entry Program (STEP) to help middle and high school students who are underrepresented minorities or economically disadvantaged master science and math concepts.
In addition, she's worked with newcomers to the United States through the Buffalo Beginnings Program at Buffalo State's Community Academic Center. During programming last July, she taught brand-new immigrant children the alphabet and their numbers. She also assisted older adults in preparing for the U.S. citizenship test.
"In one citizenship class, I was able to help a grandmother in her 70s who desperately wanted to pass the test," she said. "I worked with her one-on-one, helped her fill out the application, and took her to the citizenships test. She failed the first time but passed the second time. It made me really happy. I hope I can make a similar impact on another person's life during my student teaching and when I get into a career."
After graduation, Meh wants to earn Teaching English to Speakers of Other Languages (TESOL) certification from Buffalo State, which would qualify her to teach English to second-language learners all across the world; however, she hopes to find a teaching position in Western New York.
"I want to help students whose first language is not English," she said. "I know how hard it can be to master the language—and how important it is for lifelong learning."