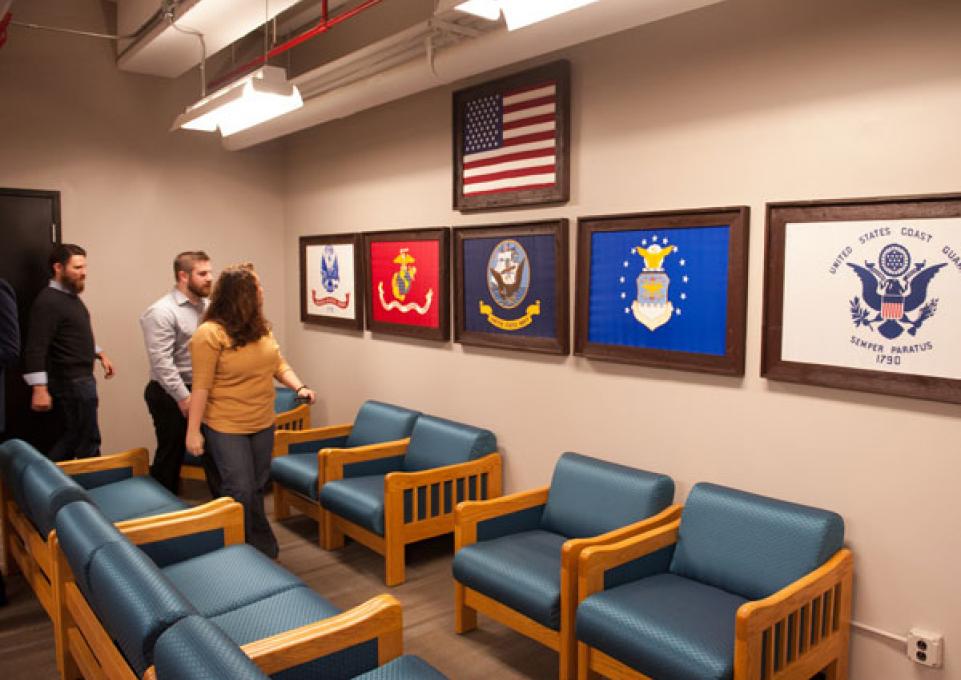 Early Tuesday afternoon, Buffalo State President Katherine Conway-Turner and Vice President for Student Affairs Hal Payne unveiled a new lounge for student-veterans, located on the first floor of Campbell Student Union.
In a short ribbon-cutting ceremony, Conway-Turner told the gathered guests that when she joined Buffalo State 18 months ago, she reached out to student-veterans to see how the college could help them. A designated space to call their own was their response. The space will also serve as the office for the Buffalo State chapter of the Student Veterans of America (SVA).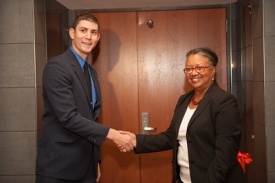 Buffalo State SVA President Jon Battison, a junior earning a dual major in electrical engineering technology: electronics and computer information systems, who served in Afghanistan, said it's important for veterans to have a place to gather, share stories, and offer support. 
The lounge, which is situated in a large room tucked behind one of the to-go food kiosks, is filled with ample seating and replete with framed flags signifying military service. New lockers soon will be added for student use.
Providing the lounge is one of the many ways that that Buffalo State embraces its approximately 345 veteran and military students. Last month, Buffalo State was named a Military Friendly School for the fourth year in a row by Victory Media, publisher of G.I Jobs, STEM Jobs, and Military Spouse. Other factors that contributed to Buffalo State receiving this designation include small class size, low tuition rates, a coordinated "veterans' one-stop center," and the SVA that works to provide students with a smooth transition from military to civilian life.
Media from WKBW-Channel 7 and WBFO covered the ribbon-cutting.
Pictured: Student Veterans of America (SVA) Buffalo State Chapter President Jon Battison (at left) and Buffalo State President Katherine Conway-Turner at the SVA lounge ribbon-cutting ceremony.