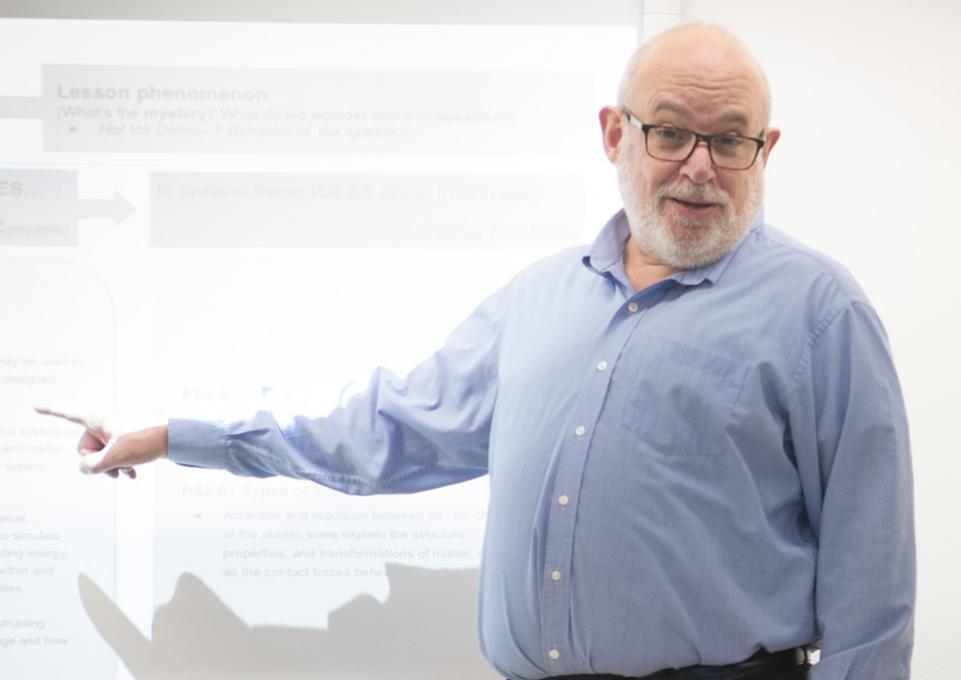 When Joseph Zawicki, associate professor of earth sciences and science education, first came to Buffalo State in 2000, the job landscape for students was much different. Nearly 20 years ago, students generally had an idea of what potential jobs were available. 
Now, Zawicki said, 65 percent of future jobs haven't even been created yet. 
"There are some jobs that we're doing right now that are just going to be simplified," he said, "because we have computers that will be able to manage large amounts of data and help us to get a better handle on how that data is stored and maintained. There has been a large change with the technology. We're able to do a lot more. We're able to look at things from a much broader perspective and answer fundamental questions."
Through his work with the WNY STEM Hub, as president of the board of directors, and the New York State STEM Education Collaborative, Zawicki is working with students and educators on providing more training for students in the STEM fields.
STEM stands for science, technology, engineering, and math. Traditionally, these were taught as discrete subjects, with the instructor giving the students information, and the students memorizing the information. STEM, however, takes a different approach, capitalizing on the vast overlap between these fields, appreciating how interrelated yet complicated these integrated disciplines can be. It's a matter of looking at the whole picture, Zawicki said, and not just a piece of it. 
"It's really about applying all those skills," he said, noting that the process involves students figuring out why something is happening, as opposed to just knowing that it happened. The goal is to "empower" students, Zawicki said, so they're prepared to take on jobs in the STEM fields.
There are efforts at the state and federal levels to increase the number of students in the STEM fields, Zawicki said.
"Quite frankly, we don't have enough students that are graduating from high school and going into the STEM disciplines," he said. "At the college level, there's recognition of that from the federal government all the way down. So a number of advocacy groups, including Western New York STEM Hub and the New York State STEM Education Collaborative, have been supported in establishing local networks to increase student engagement and student interest."
Buffalo State supports learning in the STEM disciplines through projects like the Girls Coding Project, the Mini Baja competition, and the Computer Science for High Schools (CS4HS) programming, as well as programs like the professional applied and computational mathematics master's degree and accelerated 4+1 pathways in the sciences. It's about staying at the cutting edge of technological changes.
"I think we're heading in a very appropriate direction," Zawicki said. "And really, the future for a lot of the challenges that we're facing is best addressed through the use of technology and technical innovation. We're knocking on the right doors. We're looking in the right direction."
The careers available to students are changing, Zawicki said, which is leading to changes in teaching systems and how business is conducted. 
For instance, some of the more repetitive or routinized jobs, like assembly-line production, will no longer exist in the future because of automation, Zawicki said. But instead of looking at it as jobs lost, we might view it as workers being freed up to take on careers in more meaningful jobs.
"It's really providing us with the opportunity to take a step back and think more thoughtfully or purposely about how we're accomplishing things and what the consequences and outcomes are of the programs and activities that we're doing," he said.
One example of how things could change in the future is self-driving vehicles. Already many cars are equipped with advanced safety systems, like mirrors that detect cars on either side, lane-departure sensors, and collision-avoidance systems.
"Eventually, I could see us getting into a car, and the car will take us where we want to go safely, probably accelerating once at the beginning of the ride and stopping when it arrives at the destination," Zawicki said. "So that's really going to change the way that society works and how society operates."
At its core, Zawicki said, the idea is to engage younger students and get them thinking about how they can make changes in the world as technology advances.
"It's about empowering them to think about what they can accomplish through the use of science, technology, engineering, and math, and applying those skills," he said. "The potential is just huge. It's just tremendous. And that's realistically what we need."
 
---

Photo by Bruce Fox, campus photographer.