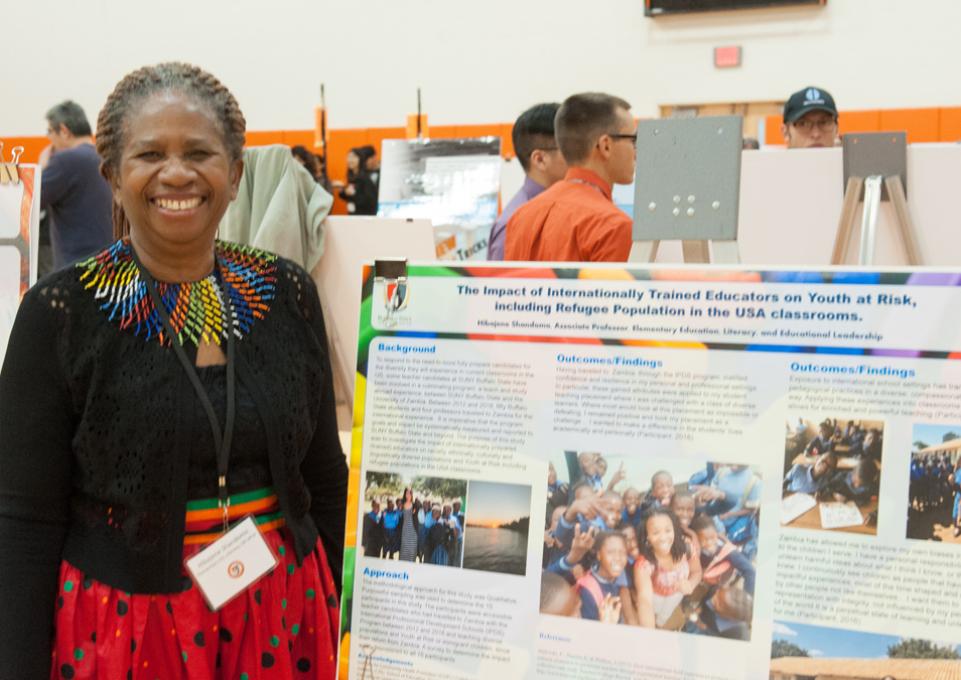 It's getting cold out there, Bengals. Luckily, we have a lot going on this week to keep you warm, like the Western New York Network of English Teachers' fall conference, "Teachers and Students as Writers: Real Writing in the English Classroom," on Thursday, November 14, from 9:00 a.m. to 3:00 p.m. in the LoRusso Alumni and Visitor Center. This regional conference on writing instruction in grades 7–12, hosted by Buffalo State's English education program, features keynote speaker Andrew Smith, educator and award-winning author of several young adult novels, including the critically acclaimed Grasshopper Jungle. Here's a look at some of what else is happening this week. Get a glimpse of student life at Buffalo State and stay up to date on student events, clubs, orgs, and more by connecting with Life at Buff State on Instagram, Facebook, and Twitter! And don't forget the many professional development opportunities (PDF, 111 KB) for Buffalo State faculty and staff members.
-----------------------------------------------
MONDAY, NOVEMBER 11
'Space, Time, and the Brain: How Do We Know When We Are?'
3:00 to 3:50 p.m.
Technology Building 160
Buffalo State alumnus William Marks, M.A. '12, postdoctoral research scientist in the Department of Psychiatry at the University of Texas Southwestern, returns to campus to discuss his research with temporal and spatial information and the human brain. Marks received his Ph.D. in neuroscience from Virginia Commonwealth University in 2017 and his M.A. in biology from Buffalo State in 2012. Part of the Biology Department and the Great Lakes Center Seminar Series.

Film Screening: Angel Has Fallen
7:30 to 9:30 p.m.
Campbell Student Union Social Hall
Join United Students Government for the third installment in the Fallen film series. This action-thriller follows a Secret Service member as he races against time to clear his name. Free for Buffalo State students. Free popcorn will be available as well.
-----------------------------------------------
TUESDAY, NOVEMBER 12

'The Art of Diversity: How to Look at Images with Diverse Backgrounds'
12:15 to 1:30 p.m.
Burchfield Penney Art Center Lobby
Sharpen your observational skills while experiencing how a multitude of interpretations can be read from the same image in this interactive workshop. Participants will engage in conversations while observing works of art on exhibition. Presented by Kathy Shiroki, curatorial associate for the Burchfield Penney Art Center. Please register online.
Diversity Dialogue: Native American Heritage Appreciation
6:00 to 7:30 p.m.
Campbell Student Union Assembly Hall
Join the Equity and Campus Diversity Office for its final Diversity Dialogue of the semester, a panel discussion in recognition of November as Native American Indian/Alaska Native Heritage Month. Panelists include Lisa Marie Anselmi, associate professor and chair of Buffalo State's Anthropology Department; Carey Seneca, assistant manager of human resources and personnel operations at Buffalo State; and Michael Martin, executive director of Native American Community Services of Erie and Niagara Counties Inc. Additional panelists may be added. Free and open to the public. For more information, please contact Equity and Campus Diversity, (716) 878-6210.
-----------------------------------------------
WEDNESDAY, NOVEMBER 13
Buffalo State Wind Ensemble
7:30 p.m.
Performing Arts Center at Rockwell Hall
The Buffalo State College Wind Ensemble, under the direction of Rick Fleming, performs works in the traditional wind band repertoire as well as contemporary works of various styles. The Wind Ensemble can be heard in performance twice each semester and often performs additional concerts and clinics at high schools throughout Western and Central New York. Admission is free. For more information, call (716) 878-3005. 
The Drowsy Chaperone (Preview Performance: Half Price)
Performances November 14–16, 21, and 22 at 8:00 p.m. and November 23 at 2:00 p.m.
Upton Hall - Warren Enters Theatre
Hailed by New York Magazine as "the perfect Broadway musical," this masterly production pokes fun at all the tropes that characterize the musical theater genre: offbeat characters, mistaken identities, and, of course, romance. Directed and choreographed by Carlos Jones, associate dean of the School of the Arts and Humanities; written by Bob Martin and Don McKellar; music and lyrics by Lisa Lambert and Greg Morrison. Ticket information is available online.
-----------------------------------------------
THURSDAY, NOVEMBER 14
20th Annual Faculty and Staff Research and Creativity Fall Forum
11:00 a.m. to 1:30 p.m.
Houston Gym
This annual showcase of faculty and staff research, creative activities, and scholarship from across campus aims to foster and support collaborative endeavors and grantsmanship. It's also a chance for faculty and staff members to identify and discuss common scholarly goals and creative interests.
Open CPR Class
9:00 a.m. to noon
Weigel Wellness Center 203
Cardiopulmonary resuscitation (CPR) is a lifesaving technique useful in many emergencies in which someone's breathing or heartbeat has stopped, including heart attack, cardiac arrest, or near drowning. CPR training is open to students, faculty, and staff. Learn more and register on the Weigel Wellness Center website.
Innovations in Sustainable Seafood: An Evening with Barton Seaver
6:30 p.m.
Performing Arts Center at Rockwell Hall
Chef, author, and sustainable seafood expert Barton Seaver will educate and excite participants with stories of seafood innovation and how seafood is itself a solution opportunity within our food system. Seaver's work focuses on domestic and international conversations and initiatives to inform consumers and institutions about how our choices for diet and menus can promote healthier people, resilient ecosystems, more secure food supplies, and thriving communities. Free and open to the public. Hosted by the Hospitality and Tourism Department. For more information, call (716) 878-5663 or visit the Performing Arts Center website.
-----------------------------------------------
FRIDAY, NOVEMBER 15
Teaching and Learning Center Conversation: Becoming a Student-Ready Campus
8:30 to 10:00 a.m.
Caudell Hall 233
Please join us for a scholarly conversation of Chapter 5 from the book Becoming a Student-Ready College: A New Culture of Leadership for Student Success, by Tia Brown McNair, Susan Albertine, Michelle Asha Cooper, Nicole McDonald, and Thomas Major Jr. (2016). The book can be retrieved from Butler Library's collection. Please register online.
Group Communication Service-Learning Trivia Night
6:00 to 9:00 p.m.
Bulger Communication Center North
Come one, come all to Buffalo State's Group Communication Trivia Night. The event is the culmination of a service-learning project completed by the SPC 307: Group Communication class. Trivia is the main event of the evening's festivities, which also include a raffle for gift certificates to local restaurants and themed gift baskets, featuring a Buffalo Bills basket door prize. Pizza and dessert will be provided. General admission is $5; $3 for students with valid ID. Proceeds to benefit the Kidney Foundation of Western New York.
 -----------------------------------------------
SATURDAY, NOVEMBER 16
Undergraduate Fall Open House
9:15 a.m. to 1:00 p.m.
Performing Arts Center at Rockwell Hall
Experience Buffalo State's diverse and creative environment firsthand. Tour the campus, learn about the broad array of academic programs from faculty members, discuss financial aid options, and more. Please register online.
Football
Noon
Coyer Field
The Buffalo State football team wraps up its 2019 season against the St. Lawrence Saints.